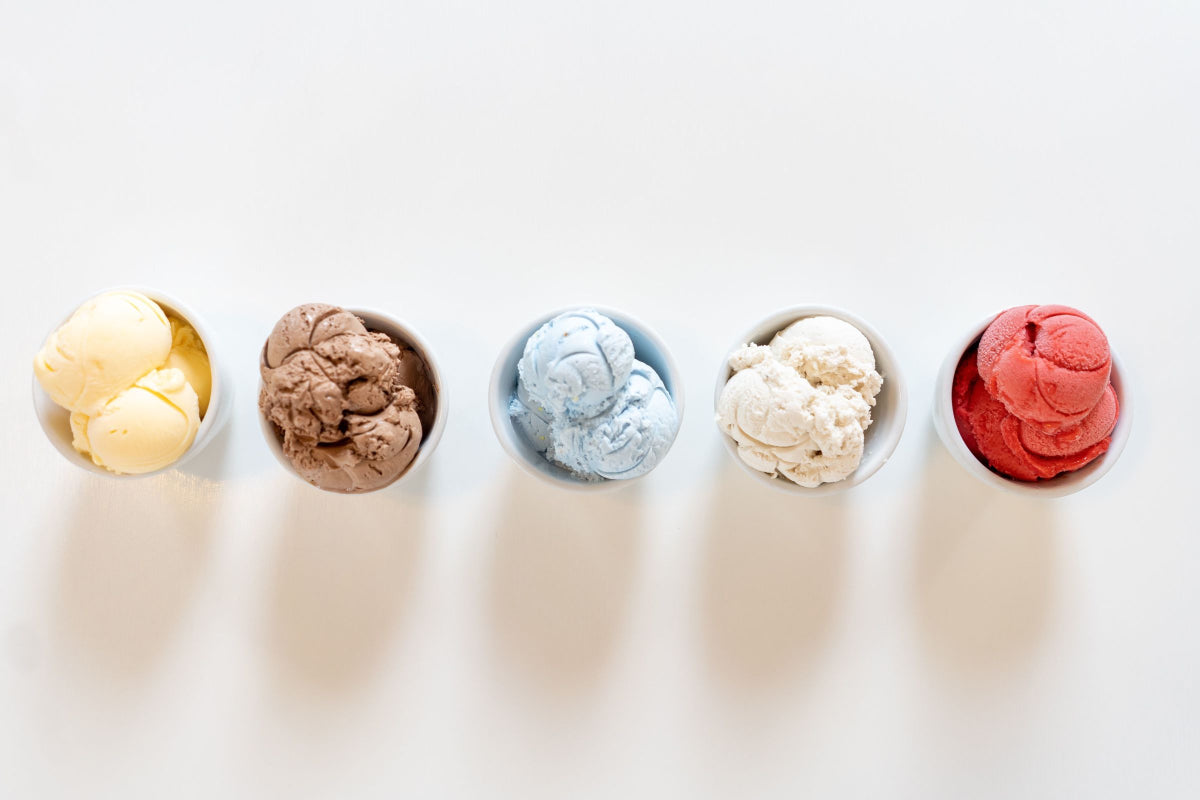 There's just something quintessentially summer about reaching for a cold, frozen treat on a hot, sunny day. Whether you're seeking refuge under a shady tree, soaking up some rays poolside, on the sand at the beach, or relaxing indoors with the air conditioning pumping, indulging in a dish of ice cream hits the spot. 
If, however, your family is juggling food allergies, finding a scrumptious and safe option can be difficult. The good news is there are some fantastic recipes you can make at home – and that you can adapt to meet your own specific needs!
Ice Cream Maker Or Not
First things first, let's talk method. If you plan on making ice cream often and you prefer creamy (and easy) results, it may be worthwhile to invest in an ice cream maker. Not quite ready to make that commitment? That's okay. You've got a few low-tech options.
Option 1: Pour your ice cream mixture into a resealable, quart-sized plastic bag. Squeeze out as much air as possible and make sure the bag is zipped up tightly. Place that bag inside another of the same size and again, squeeze out as much air as possible. Place your double-bagged ice cream mixture in a gallon sized resealable bag and add about 4 cups of crushed ice and 4 tablespoons of coarse salt. Again, squeeze out as much air as you can and seal tightly. Now shake the bagged mixture vigorously for about 8 minutes. Remember, the more enthusiastic you are with your shaking, the more lusciously smooth your ice cream will be.
Option 2: You can also go more "old school" with your hand-churn method. Place your ice cream mixture in a deep stainless steel baking dish and freeze for about 45 minutes. When the mixture begins to look frozen around the edges of the pan, remove it from the freezer, stir vigorously with a spatula. Return your mixture to the freezer. Continue this process every half-hour for about 2-3 hours. 
Blended Frozen Bananas
There are plenty of sweet, yummy options that don't require dairy or nut-based milks and that's a good thing. Frozen bananas, as an example, can be a fantastic base. Start by cutting two bananas into thirds and then freezing them. When you're ready to whip up a batch of ice cream, drop two frozen bananas into a blender or food processor and blend until they reach a smooth, creamy consistency. Add in 1 tablespoon of coconut milk (or your other favorite milk alternative!) and 1 teaspoon of honey or maple syrup. Blend just until the mixture is fully blended. Scoop it out and enjoy as is! You can also add in allergy-friendly chocolate chips or other mix-ins that make you happy.
Pina Colada Ice Cream
With or without the rum and paper umbrella flourish, pina colada frozen treats are perfect for a summer afternoon if the recipe fits with your list of safe foods. Whisk together 1 can of coconut milk, 1 can of coconut cream, and ½ cup of sugar. Stir in ½ cup of pineapple juice, 2 teaspoons of vanilla extract, and ½ cup of diced pineapples. Let the mixture chill overnight. The next day, pour it into your ice cream machine (or use one of the other methods outlined above).
Vanilla Base
The best part of making your own ice cream is that you can tailor the final product to your own unique style and taste. This nut-free, dairy-free, egg-free vanilla base from The Banana Diaries is a great starting point. It uses a mixture of vanilla oat milk and provides options for either coconut milk (and cream) or soy milk. From that starting point, you can add in anything that makes you smile, from chips to sprinkles to fruit. 
Chocolate Lovers Go-To
Can't imagine not indulging in chocolate ice cream? Good news. You can make that too! Start with about 2 1/3 cups of vanilla oat milk, 1 cup of sugar, 7 ounces of allergy-safe dark chocolate, and 1/3 cup of cocoa powder. Add a touch of sea salt and then whisk the ingredients together in a saucepan over medium heat. Once the chocolate has completely melted, remove the mixture from the heat and let it cool for about 10-15 minutes before moving it to the refrigerator. Chill the mixture for about 2 hours and then transfer it to your ice cream maker (or low-tech option of choice). Like the vanilla base, you can mix in other items to this base too for a uniquely you ice cream treat.