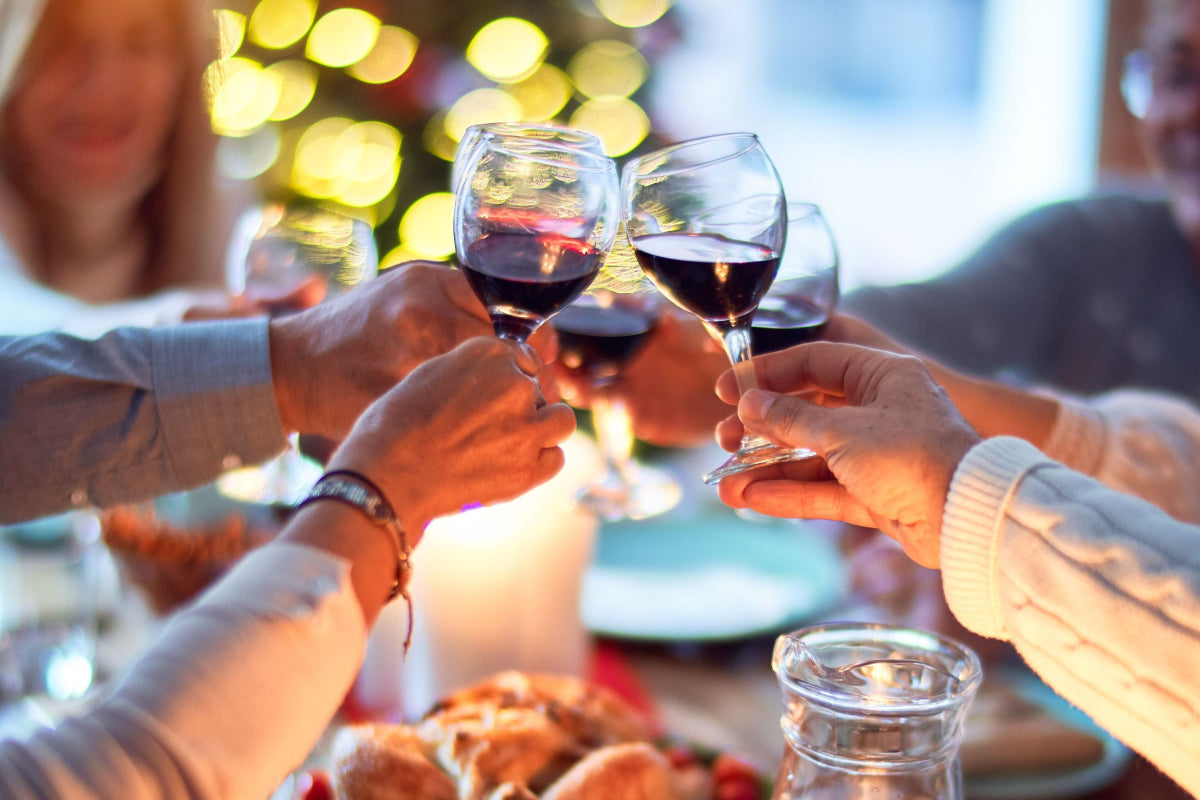 Welcome to the holiday season. From the time the turkey hits the table to the time the giant, sparkly ball drops in Times Square, we're knee deep in holly jolly festivities steeped in traditions. Many of those traditions involve food, which means that allergy families may enter this stretch with a bit of trepidation. How do you balance the fun and celebration with safety? These tips should help.
Know Before You Go
Whether your neighbor has invited you to an ugly sweater party or your boss is opening her home to her team and their families for an end-of-year get together, know this: it is always okay to ask your host what's on the menu. Explain why you're asking. "We're looking forward to it! Can I ask what will be on the menu? My son has multiple life-threatening food allergies and I want to be able to help him make safe choices or bring him some safe alternatives. Knowing what's going to be on the table ahead of time, will help us be able to enjoy the evening without the stress of worrying. Thanks for understanding." 
Pre-Game Planning
Some gatherings skip the full meal and just embrace a range of finger foods, snacks, and desserts. There's no formal "sit down and eat" space carved out of the evening, but there is a lot of reaching into a bowl and nibbling as the socializing rages on. It's easier to pass on the mindless snacking if you're not arriving to the party hungry. Before you head over to your social event, take the time to eat a full, healthy meal. Drop some allergy-safe snacks in whatever you're carrying your autoinjector in and head out to focus on the fun (not the food) of the gathering.
Leave When You Need to Leave
Your family has been invited to go caroling with a group of neighborhood friends. Singing door to door while your cheeks grow pink from the slight chill in the air is fun. The eggnog and cookies that wait for you at the end of the route, however, may not be if you're managing food allergies. Yes, it's okay to stay and just skip the food if it's what your family wants, but if dodging the food and drink is more challenge than cheer, it's okay to say your goodnights and head home after the last note is sung and before the nog is poured. 
Pick and Choose
Listen, whether you're juggling allergies or not, you need to internalize this tip and put it to use. Ready? It's really easy to overload your calendar this time of year. Between friends, family, school, work, and all the other stuff, there's holiday this and holiday that day after day after day. You do not have to do them all. It's okay to say no. 
Pick and choose what works best for you and your family. That may be dictated purely by your schedules. It may also, however, be influenced by whether you think you can safely manage the activity and keep your allergic family safe. It's okay to pass on things that bring you more stress than peace and joy. 
Host When You Can
Offer to have the holiday gathering over at your place. Being able to control the menu fully will help you relax and enjoy the meal without worrying that something on the table isn't safe for your family. 
Bring a Dish When You Can't
Is your brother hosting the holiday family meal? Offer to bring a dish with you. Yes, you can also bring a whole assortment of safe alternatives for your allergic daughter if you need to. However, if you volunteer to bring an appetizer, side, or dessert, you know there's at least one thing your allergic child can enjoy that everyone else will be savoring also.
Always Be Prepared
Regardless of what precautions you take – even if you're the one preparing the meal - always be prepared to respond to a reaction. The risk of having to manage an allergic response may be slight, but you still need to be ready for it. Your allergic family member(s) should have their autoinjector in reach at all times. Read labels, again and again. Ask questions, even if you asked when the invite arrived. Be ready to respond to a reaction if needed. And, most importantly, know that you are prepared and you are ready and you can enjoy your evening because of it.