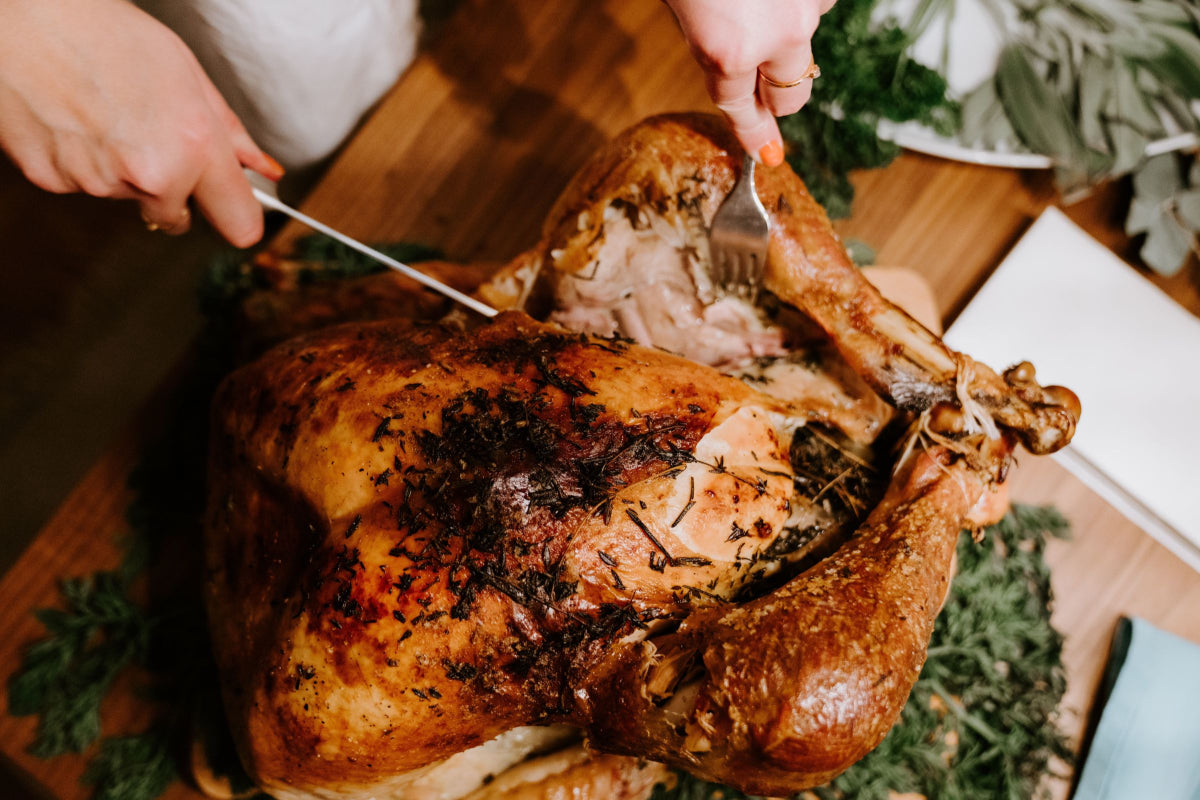 Sure, every holiday has its fair share of food-related traditions, but Thanksgiving is in a league of its own. From the roast turkey to the litany of sides that will appear on tables everywhere, it can feel hard to separate this particular holiday from its menu. When you're managing food allergies, Thanksgiving can seem a bit daunting. These recipes should help you get a handle on an allergy-friendly holiday dinner you can be grateful for. 
Let's Talk Turkey
The star of most Thanksgiving tables is the turkey. By itself, it shouldn't be an allergy issue even if you're avoiding any of the top 9 allergens (or a long list of others unless you're avoiding poultry.) That doesn't mean the turkey that lands on your plate can boast the same allergy-friendly label. 
Recipes for roast turkey are often loaded with butter and other allergens. Fried turkey often involves peanut oil. If you're not prepping the big meal, ask questions before you assume the turkey is safe for your allergic loved ones. If you are the day's cook, however, you've got some fantastic, allergy-friendly options to make a juicy, flavorful main course. 
Brine the Bird
If you're ready for a little pre-game and you've got a large container and some fridge space, letting your turkey brine for 12-24 hours can be an easy and allergy-friendly way to introduce some tenderness and flavor to your bird. To make your brine, bring 1 quart of water, 1 ½ cups of course salt, and an assortment of herbs and spices of your choosing to a boil. Simmer until the salt has completely dissolved and then let it cool for about 5 minutes. Place your turkey in a pot or container big enough to fully submerge it in a total of 7 quarts of liquid. Pour your brine mixture over the turkey and then add an additional 6 quarts of water. Let it sit for 12-24 hours. Remove the bird from the brine mixture and pat it dry. Hint: the experts suggest letting your bird sit in a cool space for another 24 hours once you've removed it from the brine to ensure a nice, crispy skin.
Prepare to Roast 
There's a long list of roast turkey recipes that call for some measure of butter on the skin or under it. For those cooking for milk-allergic family and friends, this is a no-go. Here's the good news. You've got options ranging from dairy-free butter substitutes to straight up olive oil, there are plenty of full-flavored, scrumptious recipes that skip the dairy. Find the recipe that sounds like it'll win rave reviews from your family, and then substitute any butter rub with a nice olive oil drizzle or alternative butter. 
Wheat-Free, Dairy-Free Gravy
Sure, this turkey you're making is going to be awesome on its own, but let's talk about the gravy. Making a pan gravy with the drippings can introduce a whole new layer of allergy awareness. Many recipes introduce a mixture of melted butter and flour to help thicken the juices and stock collected in your roasting pan. Clearly, that's not an option if you're avoiding dairy or wheat. Here's the good news, you don't have to give up on gravy. Instead, mix a bit of cornstarch or potato starch with some reserved turkey stock and use the resulting slurry to thicken your gravy. 
Sides and More
Turkey is just one facet of your Thanksgiving meal. The sides offer a whole other set of opportunities to experiment with allergen-friendly alternatives. We collected a few options in a previous article here: Thanksgiving 101. In that article, you'll find tips for dairy-free creamy mashed potatoes, allergy-friendly stuffing, and quinoa cakes that will make you want to skip the rolls!