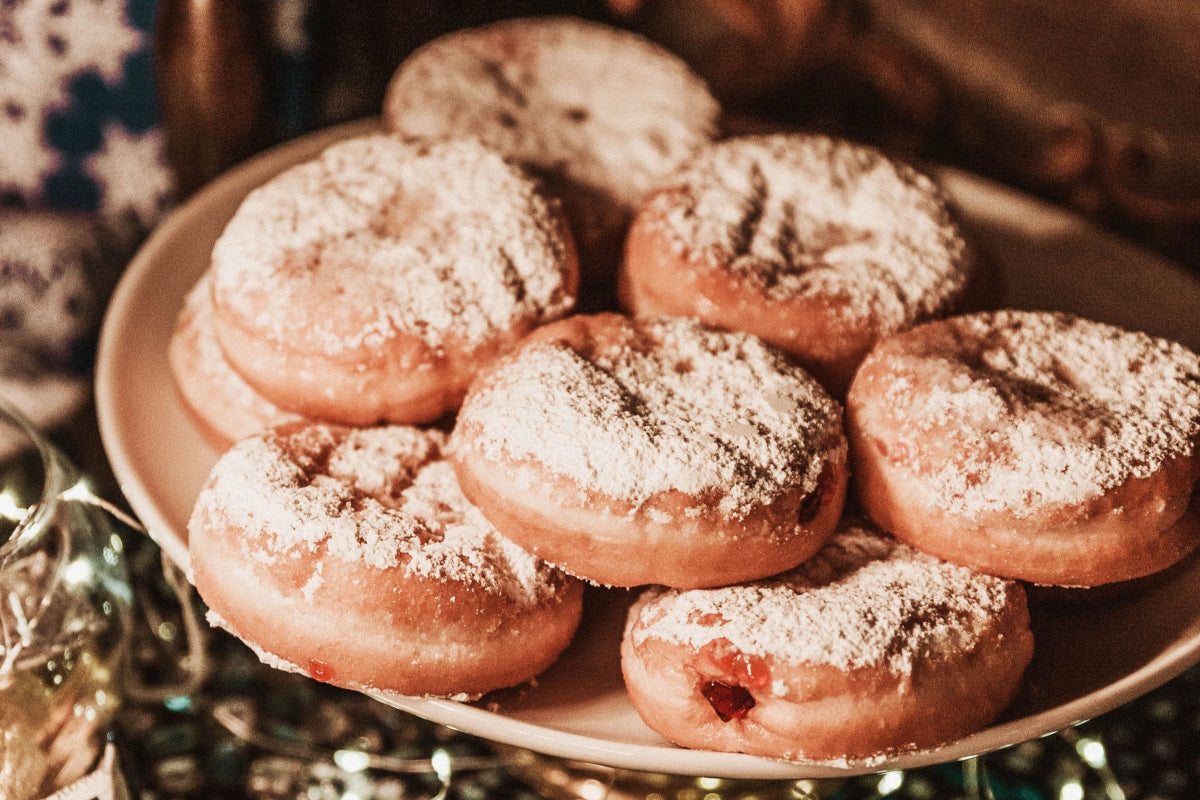 If your house (or a house you'll be visiting!) is getting ready to light the menorah and spin the dreidel, there's likely to be some food involved. As we've talked about before there are plenty of strategies to help you navigate the full plates of potential allergens. There's also, however, plenty of allergy-friendly recipes available that will allow you to share traditional dishes while avoiding your family's list of allergens. 
While these recipes offer alternatives for common allergens, of course, they may not be fit for your family's specific needs. Don't be afraid to experiment with substitute ingredients to find the right, safe dish for you. 
Potato Latkes
Recipes for this popular (and delicious) staple often include flour, matzoh meal, and/or egg in the pancake component and a big dollop of dairy-laden sour cream on top. For families juggling wheat, egg, and milk allergies, this can be a challenge. This dish can also be difficult for those avoiding tree nuts as some popular swaps to create a gluten-free, vegan version include nut flours and cashew cream. 
Try this instead: peel and grate 4 large russet potatoes and a large white onion. Drain out as much liquid as possible. You want to remove moisture from the potatoes to get a nice crisp latke. Put your strained potato and onion and add 4 tablespoons of arrowroot powder, 2 teaspoons of garlic powder, 2 teaspoons of salt, and 1 teaspoon of pepper. Set your mixture aside and heat about a quarter of an inch of oil in a skillet over medium-high heat. When the oil is hot, form patties of the potato mixture and place them in the hot oil. (Want to be sure the oil is hot enough? Drop a small bit of the mixture in. If it sizzles, you're good to go!) Fry on each side until they are a beautiful golden brown. Place your finished latkes on a plate lined with a paper towel. 
Sour Cream
As we said, sour cream often makes an appearance with potato latkes (and a lot of other things.) Cashew cream can be a common substitute for the dairy-based cream. If you're just avoiding dairy, that's a great option. If you need to skip the tree nuts, however, it's not very helpful. You can, however, follow this recipe from My Pure Plants to make a sour cream substitute using sunflower seeds, lemon juice, apple cider vinegar, and salt. 
Kugel
Sure, kugel and "allergen friendly" may seem like an oxymoron. How can a noodle casserole be safe for folks with wheat, egg, or dairy allergies? And what about those sweet versions that include various tree nuts? Here's the good news, today's supermarket shelves offer you some great options to swap out the standard egg noodle for a wheat-free, egg-free substitute. So grab your favorite kugel recipe and pick up a box of chickpea pasta to get started on this yummy dish. Need an egg-free, diary-free, nut-free recipe? This one from Jessica's Kitchen is a good option. If coconut is on your list of things to avoid, try another dairy-free yogurt.
Sufganiyot
If it's been a while since you enjoyed a good fried jelly doughnut, you'll appreciate this. With a few quick substitutes you can enjoy a version of this treat that's free of the top 9 allergens. Kosher.com offers one good alternative. Just remember that "gluten-free" is not always synonymous with "wheat-free." If you're allergic to wheat, make sure you read the labels on your flour substitute to find something that's free of your allergen and not just gluten proteins. 
Gelt
Whether you're playing a rousing game of dreidel or you're just looking for a bit of chocolate to round out your day, finding an allergen-friendly version of gelt can be a treasure in itself. Here's the good news, brands like
Enjoy Life
and
Toll House: Allergen Free
make it easy to find dairy-free, nut-free, soy-free chocolate that tastes good. Simply grab a mini-muffin pan and pour melted chocolate into each cup. If you'd like to jazz things up, reach for some add-ins that are safe for your allergic friends and family. Want to add a little luster? Brush the chocolate coins with gold luster dust.