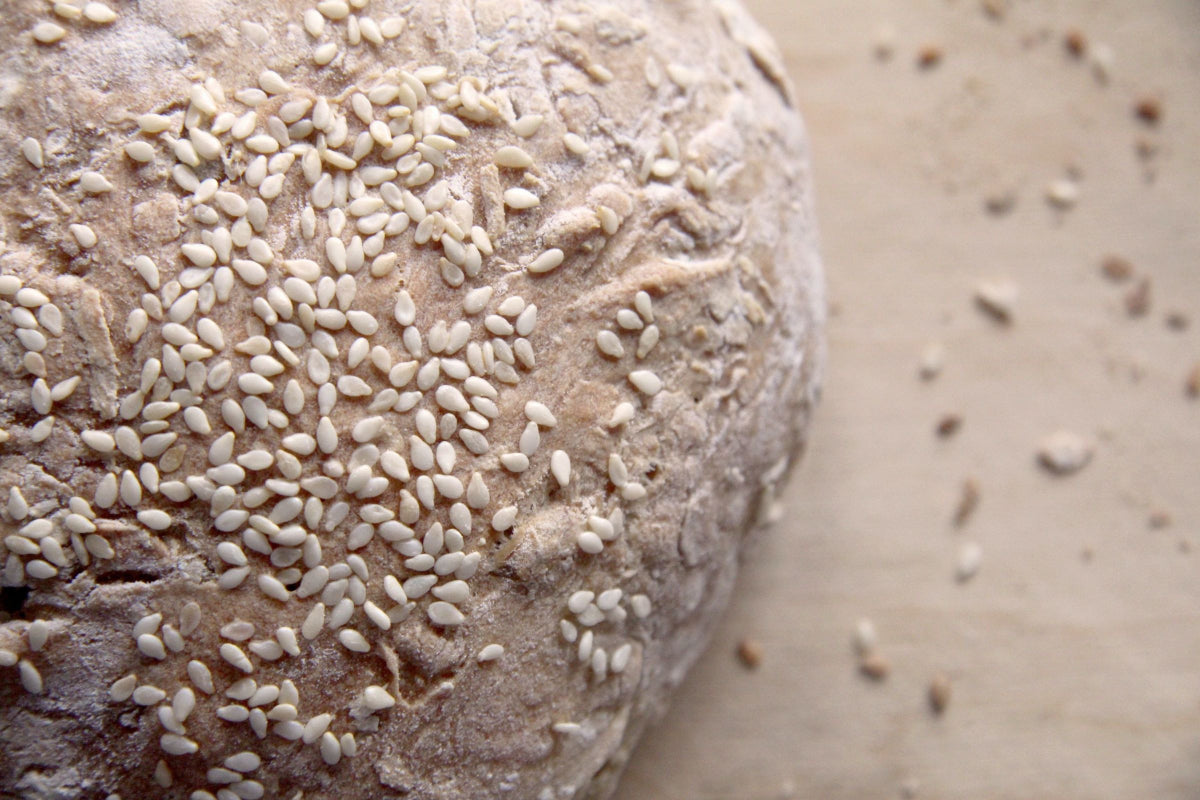 Across the last few years, we've written a lot about the "top 8 allergens." As of January 1, 2023, that list is expanding by one. The FASTER Act, which was signed into law in 2021, identified sesame as a common allergen and added it to the list of ingredients manufacturers must label clearly on prepackaged food items. Manufacturers were given until January 1, 2023 to implement the change. Today, however, labeling laws in the US require clear labeling of sesame, as well as peanut, tree, milk, egg, soy, wheat, fish, and shellfish, as ingredients in pre-packaged food products. 
Pay attention to that important caveat – the labeling laws apply specifically to prepackaged food products. As noted previously, food allergens can also be present in a host of items ranging from craft supplies to cosmetics and labeling laws like the FASTER act do not apply to these. If sesame allergies are on your radar, keep an eye out for allergen in these spaces, too.
Cross-Contamination
Grabbing a bagel from the local shop on the corner? Be careful about cross-contamination. Seeds, especially those topping the exterior of baked goods, can easily transfer from other products or surfaces to your assumed safe item. Bakery goods, regional cuisines, and other prepared foods may present a risk of cross-contamination. The food you're ordering doesn't necessarily contain sesame, but that doesn't mean it hasn't come in contact with a few seeds and as such, that it won't trigger an allergic response. 
If you've been avoiding sesame all this time, this one isn't new to you. Don't, however, be caught off guard just because the allergen will now be included in the packaged food you buy. Food labeling laws only require labeling for prepacked foods when the allergen is an ingredient. Labeling for potential cross-contamination is optional. Talk to your allergist about whether you should be avoiding foods with a risk of cross-contamination.
Non-Food Items
Like other allergens, sesame can be present in a host of non-food products like perfumes, cosmetics, pet food, soaps, body lotions, and medications. Scan the label for the term "sesamum indicum" for the presence of sesame in those non-food items. 
Skip the Oil
Yes, research has found that most allergic individuals can tolerate highly refined oils that contain their specific allergens. (Keyword, of course, being most. Talk to your allergist about your risk.) While that's good news for individuals with allergies to things like peanut and soy, it doesn't necessarily help those with sesame allergies. Sesame oil is not highly refined and therefore the proteins that trigger a reaction may still be present in dangerous quantities for an allergic person. Sesame-allergic individuals should avoid items cooked in and with sesame oil. 
Read Every Label Every Time
We simply can't repeat this one enough. Don't assume a product is safe. Read the label and read it every time. You may not think, for example, that sesame is going to show up in your veggie burger or your bowl of granola, but it might. Not only that, but that pre-packaged soup mix you've enjoyed for the last four years may have had a recipe change or is now manufactured in a new facility and that change has added an allergy warning for sesame. The only way to stay safe and avoid accidental exposure is not to assume something is safe even if you've eaten it a hundred times before. Read labels every time.