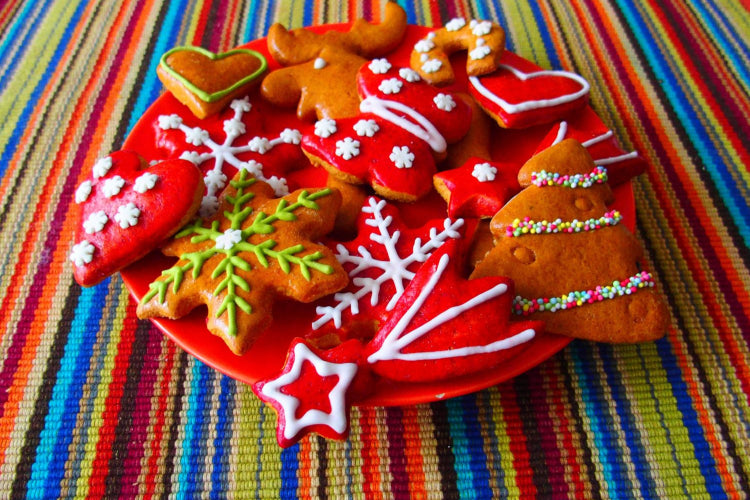 Your son's preschool class has a holiday party at the end of the week. Your daughter's Daisy Girl Scout troop is doing a cookie exchange at their December meeting. Your family has been invited to a friend's pot-luck holiday luncheon on the weekend and that's just the start of the festivities. You, like the rest of those attending these events, will be baking cookies and other treats to contribute. On one hand, that's a good thing: It means you know there will at least be one safe thing for your allergic family members to snack on while you're there. Of course, that assumes you've got a stash of stash of tried-and-true allergy-friendly recipes to draw from. If you don't, or if you do but wish you had more options, keep reading.
Sun-Kissed Buckeyes
Buckeyes, chocolate-coated peanut butter balls, are a holiday staple for many families. Thankfully, peanut butter alternatives like sunflower seed butter mean these sweet, yummy treats can be recreated safely for those with peanut allergies. A few simple substitutes to the other ingredients can also make these treats dairy free, too. To start, combine two jars of creamy sunflower seed butter with two sticks of butter (use a non-dairy butter sub if you're cooking for a milk-allergic person.) Add 1 pound of powdered sugar and blend well. Dust your hands lightly with more powdered sugar and roll the mixture into bite-size balls. In a double boiler, melt your go-to chocolate chips and 2 bars of edible paraffin wax in a double boiler. Using a toothpick, dip the sunflower butter balls into the chocolate and then place on a cookie sheet lined with wax paper to set. To be sure the candy firms up properly, store the completed balls in an air tight container in the refrigerator.
Allergy-Friendly Sugar Cookies
What's a holiday cookie exchange without sugar cookies? These cut-outs are a stable of the Christmas season, as well as a challenge for allergy families. This recipe from Grandma Lou offers a sweet and scrumptious nut-free, dairy-free, soy-free, egg-free alternative. Substituting the recipe's 2½ cups of flour with a non-wheat flour is an option, too. Just experiment with different non-wheat / gluten-free options until you find one that yields the right texture and flavor for your taste buds. 
Wheat-Free, Dairy-Free, Egg-Free Gingerbread
Forget finding a gingerbread house kit that meets your allergen needs. Unless you're buying a specialty kit online from an allergy-friendly company, it's a near impossible task. Good thing you can just make your own. Whether you use A Little Insanity's recipe for cute little gingerbread men or you build out a whole neighborhood of buildings, this one is worth a try.
Simple and Delectable Chocolate Truffles
Place 9 ounces of your favorite dairy-free chocolate chips or blocks/bars that you've chopped up into smaller pieces in a bowl. Heat up a can of coconut milk and pour the hot liquid over the chocolate. When the chocolate has melted, stir ½ tsp of vanilla and/or other flavor extracts into the mixture and set it in the fridge to chill. Once the mixture is set, use a small cookie-dough scoop to form your truffles. For an added bit of pizazz, you can roll your truffles in a cocoa powder, powdered sugar, finely broken candy canes, or other toppings. Try to just eat one of these awesome bites. I bet you can't!
Crispy-Treat Christmas Treats
Kellogg's Rice Krispy cereal is made with rice flour, not wheat, but it's malt flavoring may include some measure of gluten. If you're dealing with a wheat allergy (as opposed to gluten-intolerance), the brand-name cereal is a good option for this kid (and adult!) favorite treat. If you need a gluten-free alternative, there are options of similar cereals available to you. Whichever cereal option you choose, you'll need 6 cups of crispy goodness for a full batch of treats. In a large pot, melt down 3 tablespoons of coconut oil and then add a package of marshmallows. (Note: Check your marshmallow packages closely for your allergens. If you're avoiding eggs, for example, some brands will be safe for you and some will not be.) Cook the mixture until your marshmallows are gooey and melted down completely. If you plan on making trees or other shapes that could benefit from a new hue, add a few drops of food coloring to your mixture at this point.  Now, add your cereal and stir until every bit of crispy goodness is coated. Pour your mixture into greased pie pans or other container. Flatten the mixture down evenly with your hands and allow it to cool. Once your treats are cool, you can use lightly greased cookie cutters to cut your treats into fun holiday shapes. If you want to have some more fun decorating your treats, use a dab of honey to 'glue' edible toppings on as decorations. Allergy Awesomeness can walk you through making reindeer, for example. 
Got a favorite allergy-friendly Christmas cookie or candy recipe? Join the conversation on our Allergy Ninja page on Facebook and share it with the rest of us!