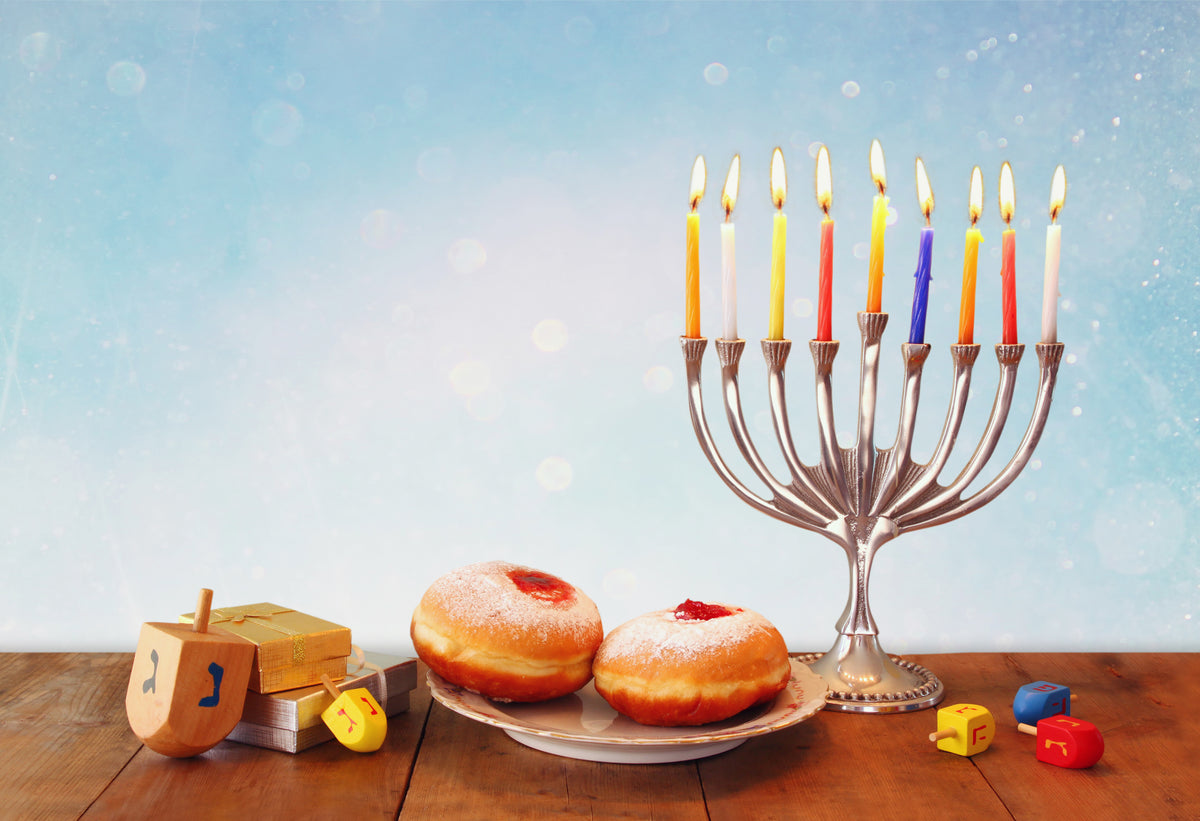 Welcome to the holiday season. As much as we enjoy the opportunity to celebrate with family and friends, this stretch of time between Thanksgiving and New Year's Day can be a minefield for allergic families. Dinners, cookie exchanges, edible gifts, classroom parties – and that's just the beginning. It can be hard to relax and enjoy the festivities when you're worrying over what dish is safe and which is not.
Here's the good news: You can relax and enjoy by adapting some of the holidays' traditional fare to meet your allergy needs. Volunteer to contribute a dish to the family dinner your sister is hosting. Send in your own safe treats to the classroom party so your child has one treat everyone else is eating that  he knows he can have, too.
Here's the better news: Creating traditional holiday recipes with an allergy-friendly twist doesn't have to be overwhelming. In fact, I'd like to help you. To get started, I've collected a few allergy-aware Hanukkah treats to share with you here. I'm also happy to help you makeover one of your favorite recipes. Just stop by my website to get started: Recipe Makeover.
Top 8-Free Potato Latkes
Traditional latkes often include egg and wheat. This recipe combines both shredded and mashed potatoes to create a mixture that binds itself together. Combine one cup of cooked potatoes mashed and one cup of cooked potatoes finely grated in a bowl with ½ teaspoon each of salt and baking powder. In a large skillet, melt 2 tablespoons of milk-free, dairy-free margarine over medium heat. You can also use your favorite oil. Spoon the potato mixture into the skillet, forming pancakes and cook until the bottom is golden brown. Flip and continue cooking.
Gluten-Free, Wheat-Free, Dairy-Free Challah Bread
Using your favorite wheat flour alternative or mixture of flours and a non-dairy yogurt such as a coconut-based alternative makes this recipe from Gluten-free Jules a great option for those looking to make this yummy bread allergy friendly. The recipe does include eggs; however, you could experiment with using a flax egg or another alternative to make this one safe for those with egg allergies too.
Scrumptious Wheat-Free, Dairy-Free, Egg-Free, Nut-Free Jelly Donuts
Who doesn't love a sweet treat like a jelly donut to celebrate the holidays? Baked goods are often laden with allergens like nuts, wheat, egg, and dairy, but not this recipe shared by Inhabitots. This recipe uses a combination of non-wheat flours like brown rice flour and arrowroot powder bound together with applesauce and water to make a sweet, safe treat.
Dairy-Free, Egg-Free, Wheat-Free, Nut-Free Kugel
Traditional kugel recipes are often laden with egg noodles, egg, and dairy. Not exactly an allergy friendly dish, until, that is, you find a recipe like the one from Jessica's Kitchen. This recipe makes use of quinoa pasta, coconut yogurt, and applesauce to create a great dish without the allergens.
Got a favorite allergy-friendly Hanukkah dish? Join the conversation on our Allergy Ninja page on Facebook and share it with the rest of us!  Stay tuned for more holiday recipes. We'll be talking Christmas cookies and more next time!