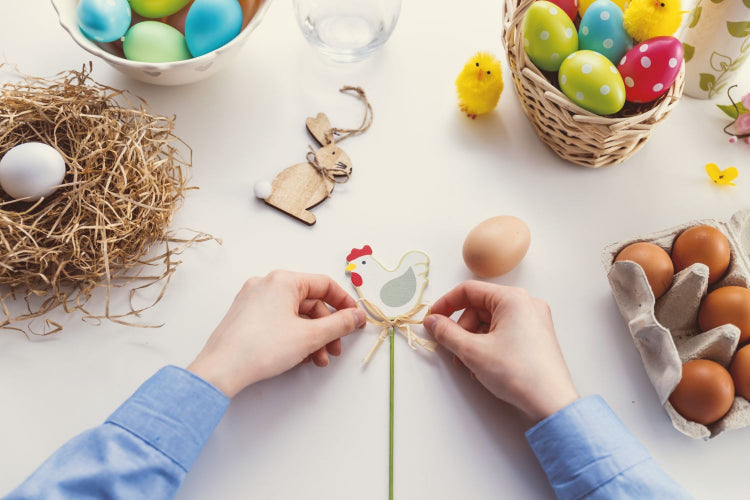 Bunnies and chicks. Chocolate rabbits and colored eggs. These things are staples this time of year as families start getting ready for Easter. For most folks, traditions like coloring eggs and munching on milk chocolate rabbit ears is a given. Those things aren't impossible for allergy families, but they do require a little bit of creativity.
Coloring Eggs
For an egg-allergic child, dipping hard-boiled eggs into plastic cups of brightly colored dye is probably a tradition you'll want to nix. Here's the good news: You have options. Eggs made of plaster, plastic, papier-mâché, wood and dye-able ceramic can be used in place of edible eggs. Your decorating techniques will vary depending on what type of egg you're using. Washi tape, stickers, decoupage, paint, dye and other standard art supplies can be used to create beautiful, colorful, Easter eggs!
Chocolate, Chocolate, and More Chocolate
Big-eared chocolate bunnies, egg-shaped treats, and an assortment of other sweet, chocolatey-good things seem to be standards this time of year.  Don't assume your family's allergies are going to prevent you from finding the perfect candy. Yes, you are going to have to do their homework on this one, but it's worth it. From brands that are specifically allergen-friendly to allergy-aware local small businesses, you've got choices!
The key here is to not wait to the last minute. Call that mom-and-pop candy shop in town and ask about their allergy practices. You may be surprised. Some of these local shops are allergy-aware and can accommodate your needs. Others may not be able to. The key here is that you don't know unless you ask. Don't rule out pre-packaged bunnies, either. Give yourself a little extra time to check labels in the supermarket or other retail outlet. Whether you're looking for a dairy-free (vegan) chocolate rabbit or a classic bunny without a cross-contamination warning for peanuts and tree nuts,  you may find one on the shelf in your favorite retailer.
The Hunt Is On
Jelly beans, foil-wrapped chocolate and other edible goodies can be small and inexpensive. That means they are also a natural go-to item to slip inside dozens of plastic eggs for an egg hunt. For an allergic child, however, this can be a challenge. Switch things up a little and go food-free with your hunt. Fill eggs with small stickers, coins, allergy-friendly snacks, small bottles of bubbles, and other inexpensive gizmos. If you're heading out to a large organized hunt, consider a post-egg-gathering swap. Pick up a small, inexpensive toy or allergy-safe snack and let your child trade their loot for it. Focus on the fun of the hunt and not the prize inside the eggs, too. This is a good rule for all of us – allergic or not. Concentrate on the fun we're having, not the food we could (or could not) be eating.
Basket Full of Allergy-Friendly Fun
An Easter basket full of delicious things doesn't have to be off-limits for your allergy child, or cost-prohibitive for you. Yes, you can certainly find candy and treats free of your child's allergies. You can also focus on non-edible treats. Note, we're not talking about big pricey gifts. We're talking about fun, reasonably-priced things like new sidewalk chalk, bubbles, art and craft supplies, small inexpensive toys, and a book. You can also get creative and make up a themed basket around a favorite activity. Does your child like going to the park? Create a coupon for a family trip to a new outdoor space you've not visited before. Fill the basket with items to take along: a map of the park, a pair of inexpensive binoculars, a pocket compass, a small notepad and pencil for note taking, and so on. Get creative and have fun with it!
What holiday traditions does your family have? Join the conversation on Facebook.