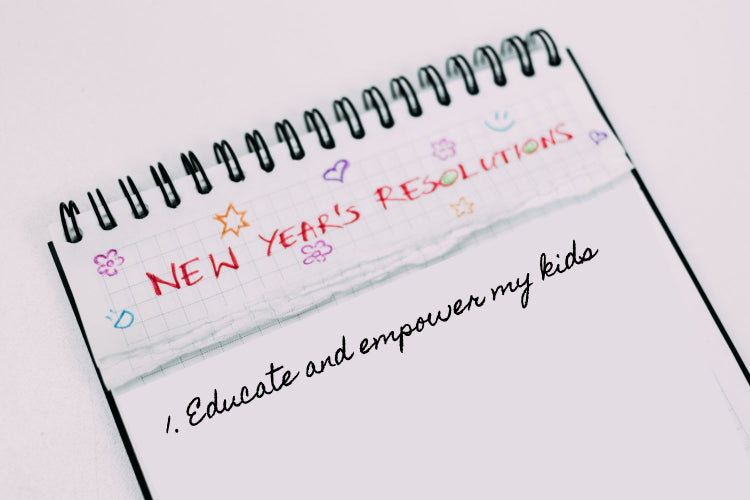 Did you make a New Year's resolution? Did you ring in 2019 with a list of goals and a plan to reach them? (I've got some ideas on that over at Creative Blueprints for Leaders if you need a hand!) My guess is that the answer is yes, even if it's a casual mental note that now is a good time to start doing (or stop doing) something. So, let me ask you this: Have you set any resolutions regarding food allergies? If not, I've got a few suggestions you may want to consider.
Resolve to get up to date on the latest research
There's a lot of research surrounding food allergies in progress and that's great news! These studies range from potential new treatments to a better understanding of why the number of allergic individuals may be climbing. This also means, however, that if you've been on this allergy journey for a while, you may need to set aside some time to review the latest studies. This can help you to craft a more comprehensive management plan, help you better explain the need for accommodations to those who aren't quite getting it, as well as give you and your doctor ideas about clinical trials and upcoming therapies to be on the lookout for.
Resolve to distinguish the difference between fear and respect
Learning that you or someone you care about could face lethal consequences from consuming something millions of others enjoy without a second thought can be terrifying. No one would deny that. Living with that reality, however, doesn't have to equate to living in fear. As with everything else in life, there's a fine line between respecting the potential danger and being fearful. Strive to stay on the side of respect. Reading labels, seeking reasonable accommodations, working through an allergy action plan with your allergist, carrying your auto-injector, and other such steps are about respecting the nature of food allergies. But if allergies are preventing you or your loved one from living a normal, full life, it may be time to evaluate whether you've crossed the line into fear.  Take time to talk to your allergist about what steps you really need to take in order to live safely with food allergies and where you can stretch your wings and fly a little.
Resolve to educate and empower
It's never too soon to start teaching your child how to manage his or her allergies. Got little ones? Make sure they see you reading labels and packing the auto-injector in your bag. Show them where to look on the package for allergen statements and drag your finger under each word as you read it out loud just as you would a picture book. Teach them how to respond to folks who offer them food.
Got older kids? Let them practice with the auto-injector training unit that came with their prescribed set.  Teach them how to order when you eat out and let them take a stab at checking packages for allergy statements with you as a 'back-up' reader to double check and verify. Your goal is to give your allergic children self-care responsibility little by little, so by the time they are looking for age-appropriate independence, they're prepared to take on the allergy-related care that would be necessary to stretch their tween / teen wings. 
Resolve to look to the future
Similar to the previous resolution, it's important to remember that the job of every food allergic parent isn't just to keep their child safe today, but to equip them to keep themselves safe tomorrow.  When we're worrying about whether our child will be safe in preschool, or if they'll be OK at the lunch table in elementary school, it's easy to focus just on what we have to do right in the moment to ensure our child gets through this particular event. We're not necessarily thinking about what happens the day that child turns 18. (By the way, this applies to any child, not just your allergic kid.) Parents to minor children aren't often thinking much about HIPAA being a factor in having conversations with their child's doctors. Once that child turns 18, however, things change. You will no longer be privy to your child's medical information unless he or she grants permission on their HIPAA waiver forms. That means your child could have a reaction at college, and the hospital may not be able to disclose any information to you. It will mean your child's healthcare provider will be directing any questions about medical history, allergies, and current issues directly to your child. It means all that stuff you've been juggling on their behalf is now on their plate. Make sure you are equipping your child today to take that on tomorrow.
Resolve to build your support network
Living with any chronic medical condition or challenge can be isolating. I'll let you in a little secret: There are people who WANT to help and support you. Yes. It's true. Let me say it again: There are people who want to include you and help you carry the burden. You just need to give them the chance to do so. It starts by teaching them how to help you. Share your story. Explain what accommodations your child needs and then let those helpers help you.
A secret for keeping resolutions
You'll find a lot of tips and tricks when it comes seeing your resolutions through to fruition. Some of them will work for you. Some might not. Here's one that should: Tell someone about your goals, preferably someone who will help you stay accountable to them. Need a hand with that? Join us over on Facebook and let us know what allergy goals you've set for 2019. We want to help cheer you on!