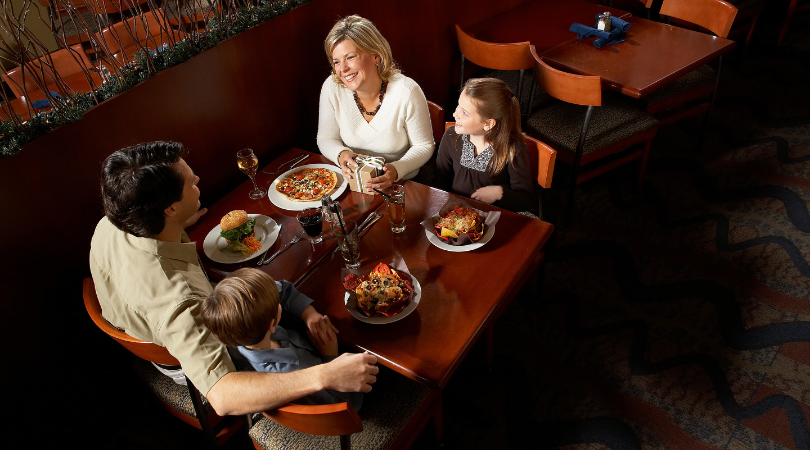 Grabbing a meal with friends. A dinner date. A birthday party over lunch. A pile of snacks as you study with friends. Food's presence in social settings is ubiquitous. Most of us don't even think twice about grabbing a bite when we're out. For those managing food allergies, however, this normal, social activity can be a minefield of danger. That doesn't mean it's impossible. These steps can make meals out safe and pleasurable.
What's Up Doc?
It goes without saying that safely eating out begins with a conversation with your allergist. Get input from your doctor on places or types of dishes that would be easier for you to find safe alternatives or adaptions. Ask your doctor for tips and tricks to eating out that address your specific allergic needs and challenges.
Arm Yourself with Info
You may not have to give up eating out, but you may have to forgo the spontaneity others enjoy. Enjoying restaurant meals with food allergies means doing your homework. Preview the menu. (Note: some chain restaurants will include their allergen menus online.) Talk to others who have frequented the places you're interested in and have done so successfully despite food restrictions. Call the eatery and ask to speak to the manager or chef. Tell them you're considering coming in for a meal and you're looking for information to determine whether they'd be able to safely accommodate your allergies. Listen carefully to their response. Are you confident with their answers? Saying "I guess" is different than "We have a dedicated work station to manage specific dietary restrictions."  In the same vein, "I wouldn't feel comfortable serving you any of our fried foods as there is a risk of cross contamination with our shellfish, but we'd be happy to pan fry a meal as an alternative if you can come in off-peak hours," is different than "We have a dedicated fryer, but sometimes when we get busy we just dump whatever we need to in there to meet demand."
Be Prepared
Even the best laid plans can go astray. Don't leave home without your auto-injector, and other meds dictated by the action plan your doctor has developed for you.
Keep an Eye on Your Time
Your meal is going to require special attention. Make sure the restaurant has time to give it to you. Plan your meals for the start of a service period. Staff will be fresh and ready to go. The kitchen will be cleaner. The restaurant is also less likely to be busy, which means everyone handling your food will have the time to make sure its being prepped with the accommodations you've requested.
Pick Your Place Carefully
There are certain cuisines that are simply riskier for specific allergens than others. For example, diners with peanut, sesame, and tree nut allergies may be better off avoiding Thai and Chinese restaurants. If you have a shellfish or fish allergy, seafood restaurants will be difficult to manage cross contamination risk no matter what you're ordering. Milk allergy sufferers who are sensitize to aerosolized milk proteins may want to avoid small cafés with steamed milk drinks. By the way, determining what constitutes a 'higher-risk' place for you and your allergen list is a good topic to discuss with your allergist back in step 1.
Make Yourself Known
When you approach the host, mention your food allergies. If you've done your research and know they have a food allergy menu available, ask for one. The first interaction with your waiter should include a conversation about your allergies. You may also want to speak with the manager or chef. Be clear about what you need to avoid and why.
Keep It Simple
The more substitutions a dish requires, the more opportunity for a mistake. Look for simply prepared meals with fewer ingredients. Ask about sauces and marinades. When in doubt, skip it. If your order arrives and you're not comfortable that it's been prepared as you've requested, don't be afraid to send it back.
Consider Skipping Deserts and Drinks
Drinks – whether they're adult beverages or kid-friendly smoothies – can be a minefield for allergens. Unless you know for sure the drink you're about to order nixes nut-based liquors or dairy-laden ingredients, stick with water and other safe go-to beverages. Likewise, desserts can be difficult to consume safely when you're eating out, whether the risk is from an unexpected ingredient backed into your slice of cake or from cross contamination.
Say Thanks!
Have a great experience eating out with food allergens? Tell your server and the management of the eatery, but don't stop there! Consider writing online reviews to spread the word. This not only helps the restaurant that you enjoyed, it also helps other allergic families find options.