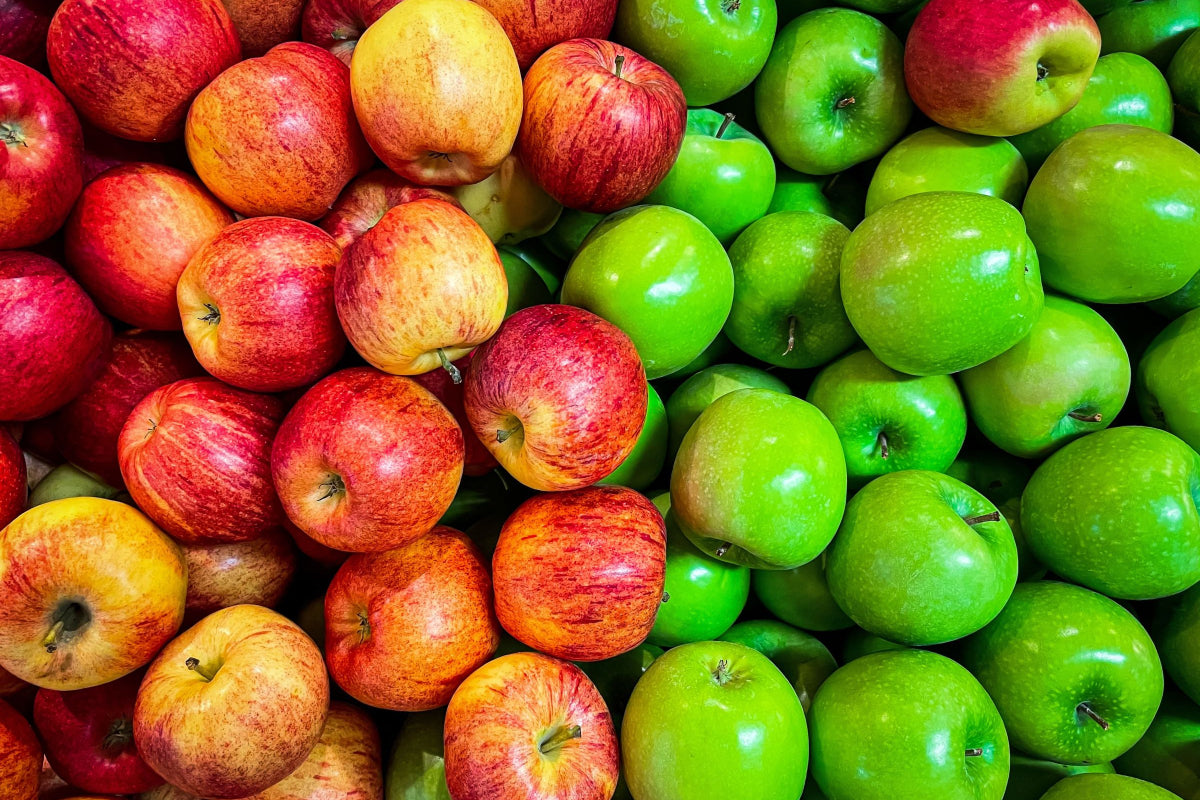 September conjures up thoughts of a new school year, cooler evenings, tinges of colored leaves, and apples. Lots and lots of apples. Every coffee shop worth its salt may be touting pumpkin-spiced anything, but we all know that this month belongs to the apple. 
From tart to sweet, green, yellow, or red, apples are synonymous with the close of summer and the dawn of autumn. Some of the old standby apple recipes, however, can be a problem for those living with food allergies. It's the season of wheat-laden pie crusts and crumbles, dairy-based caramel toppings, and those crunchy nuts finding their way into baked goods and the edges of dipped apples. It can make one wonder if there's any way to avoid allergens and enjoy the seasonal treats. Of course, our answer is the same as always – yes! With a little preparation and home cooking adaptation, of course. 
Dairy-Free "Caramel" Apples
Sure, traditional caramel relies on butter and cream to achieve a thick, luscious creamy texture. That puts traditional caramel out of reach for families with milk allergies. Thankfully, you've got options. 
Try combining 1 cup of full-fat coconut milk with ½ cup of coconut sugar and ¼ cup of maple syrup. Stir the mixture in a pot over medium heat until it comes to a boil, then continue to stir for about a minute and turn it down to medium low and allow it to simmer for 15 minutes. Stir gently and frequently as the mixture darkens and thickens. Remove your caramel from the heat and add 1 teaspoon of vanilla and a pinch of sea salt. Allow it to cool in the fridge slightly. 
You can either place a stick in the base of a whole apple and the apple into the cooled caramel or you can slice an apple and use the caramel as a dip. Whatever method you select, enjoy it!
Apple Spice Coffee
Pumpkin Spice who? That's what you'll be asking after you sip on this Apple Crisp Cold Brew Latte recipe from Kale Junkie. The best part is you can customize the recipe to meet your specific allergic needs. Author Nicole calls for a non-dairy milk in her directions, so embrace it. Experiment with oat milk, soy, or a variety of other options available to you. If nothing else, it's a good excuse to make this recipe over and over again. 
Apple Granita 
Not every September evening is going to be a cool one. With temperatures still hitting the "warm to hot" range at various points of the average September, having a cool treat in your repertoire is a good thing. Skip the ice cream recipes that may contain allergens like milk, egg, or even nuts. Try something delicious and simple like this Apple Granita recipe from Food & Wine.
Beef & Apple Stew
Beef and Apples in one savory, belly-warming dish? Yes, please. If you search for a recipe, however, you'll likely stumble across ingredient lists that call for flour (to dredge the meat in before cooking) and cream (to create that lush sauce.) The good news is those recipes aren't your only option. Gluten Free & More offers a yummy-sounding dish that incorporates beef, apples, and sweet potatoes without the diary or the wheat.
Allergy-Friendly Apple Muffin
Yes, it's real. It's a muffin. It has apples and it doesn't have egg, wheat, dairy or nuts. The Hurd family owns an orchard in Modena, NY. They're also an allergy family avoiding dairy, soy, eggs, corn, and gluten among other things. As business owners, they sometimes offer recipes on their website that make use of the produce they sell. As an allergy-aware family, some of those recipes are perfect for those of us looking to avoid certain allergens, like these Allergy Friendly Apple Muffins with Maple Syrup.