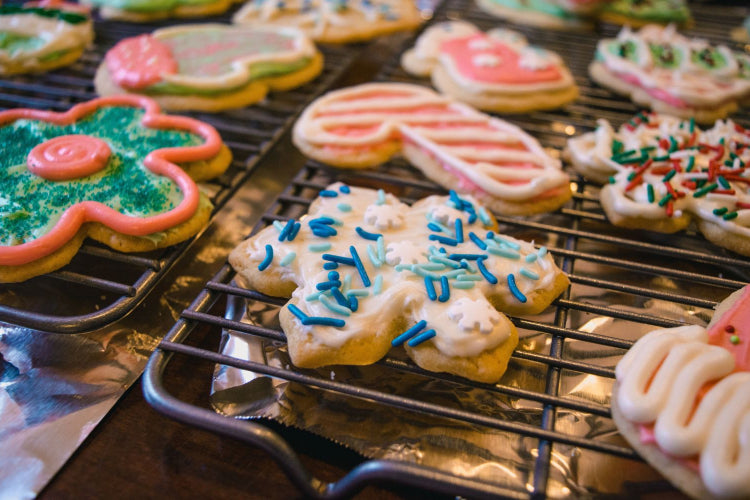 There's something very comforting about a cup of tea and a warm cookie. When you've got food allergies, however, it can take a little extra hunting to find the perfect cookie recipe that hits the right balance of scrumptious and safe to eat. I've done a little digging for you and found a few recipes that may be blue-ribbon winners in your book.
Whether you're just looking for a plate of yummy, crumbly cookies to munch on while you're curled with a good book on a cold winter's afternoon or you need a platter of allergen-friendly treats to take to a cookie exchange, these recipes are worth checking out.
Nestle's Toll House Cookies (with an allergy-friendly spin)
There's nothing like a warm, melty chocolate chip cookie to satisfy your sweet tooth. The top 8 food allergens (milk, egg, wheat, soy, peanut, tree nut, shellfish and fish) don't have to keep you from biting into this classic. You'll even find an allergy-friendly recipe on Nestle's website: Chocolate Chip Cookies. As the recipe notes, be sure to check labels for your specific list of allergens.
Egg-Free Meringue
If you're familiar with meringues, I know you're scratching your head on this one. Meringue, after all is almost exclusively egg-whites and sugar. With a little creativity, however, you can whip up a batch of meringue-like cookies using a can of chickpeas to replace the egg. Seriously. You'll find the full recipe at Allergic Living: Egg-free Meringue Cookies.
Allergy-Friendly Sugar Cookies
There's something special about spending an afternoon in the kitchen with family making cut-out sugar cookies. Think your list of allergies makes it impossible to find a dough that holds up to handling and decorating? Megan at Allergy Awesomeness has an option for you. Her recipe is gluten-free, wheat-free, egg-free, dairy-free, soy-free, peanut-free, and tree-nut-free. It's also kid tested and approved in Megan's own kitchen. You'll find her recipe here: Allergy Friendly Sugar Cookies.
Soft, Gooey, Oatmeal Cookies
It's hard to find a cookie that's wheat-free. It's harder to find a cookie that's wheat-free and egg-free and have that perfect soft texture that makes your mouth water. Over on the Eating with Food Allergies blog, Kristi has pulled together a cookie that promises to hit all those notes and more. You can find her recipe here: Oatmeal Applesauce Cookies.
Gluten-Free, Dairy-Free, Nut-Free Cowboy Cookies
Giddy-up! Cowboy cookies have a little bit of everything yummy, combined into one sweet hand-held treat. Traditional recipes include a lot of ingredients that would make them off limit for folks with certain food allergies. My Gluten-Free Kitchen's Michelle nixes the wheat, nuts, peanuts, and milk in favor of some allergy-friendly alternatives. Her recipe does include eggs, but you can experiment with your favorite egg substitute to customize the recipe for your own needs. (And if it means you've got to eat a few extra batches of delicious cookies, so be it.) You'll find Michelle's recipe here: Gluten-Free, Nut-Free Cowboy Cookies.
Wacky Double Chocolate Cookies
This simple recipe created by Laura and featured on the Kids with Food Allergies site is a chocolate lover's dream. The original recipe is not wheat-free or gluten-free, but you can experiment with flour substitutes to create a cookie that works for you if those are things you need to avoid. This treat is, however, egg-free, nut-free, and peanut-free. Depending on the chocolate chips you use, it can also be dairy-free. You'll find the recipe here: Wacky Double Chocolate Chip Cookies