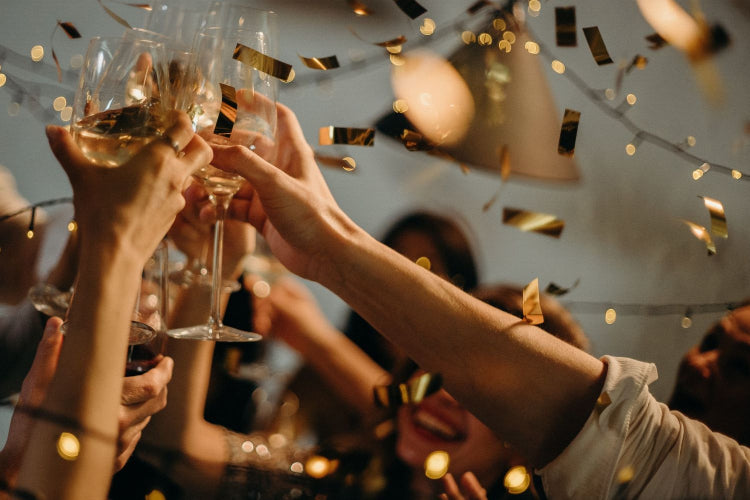 The final days of 2019 are winding down and we're getting ready to celebrate the start of a new year. Whether you're preparing to welcome 2020 quietly or with a big bash, make a plan now to manage your family's food allergies. From the ball drop to your resolutions, keep your allergies in mind.
Party Guest? Do Some Prep.
Ushering in the New Year with your friends and family can be a ton of fun. If you're attending a bash that someone else is hosting, make sure you do your homework ahead of time. Get an idea of the planned menu. Will there be items safe for you or your allergic loved ones? Are there safe alternatives you'll want to bring along with you? Will there be dishes you'll need to steer clear of when the buffet table is set?
Party Host? Plan it Out.
You know what you've got to avoid and what you can substitute to keep yourself or your allergic loved one safe. Even if your normal day-to-day includes the occasional item that the allergic person in your household can't eat, leave it off the holiday table. With all the fun and excitement underway, it won't be easy to keep tabs of who is grabbing what, touching what, and sharing what. Nix the risk of cross contamination by keeping your table allergy free. If your guests bring a treat to share, check the label and ingredients and make sure any allergic folks at your gathering know what is (or is not) a safe addition to the table.
Midnight Countdown
The clock is ticking down, the Time Square ball starts its descent. The room is buzzing with excitement. At midnight, there will be cheers, hugs, and kisses. Allergy folks, be prepared. Traces of allergens can linger on the lips. If the person giving you a New Year's peck was eating something that you're allergic to, it's possible you'll come in contact with traces of your allergen and experience a reaction. Either pass on the kissing or ask whoever is puckering up to avoid your allergens for the evening.
Resolve to Read Labels
Are you kicking off January with a New Year's Resolution? For many, January means making some changes to our eating habits. We may just resolve to eat less sweets or we may completely overhaul our dietary choices.
If your plans to eat healthier include prepackaged meals from a specific program, do your due diligence. Make sure the packets you'll be receiving are allergy safe for those in your home who will be eating them. If you're meal planning from a suggested list of menu items, balancing your plan's suggested foods with your allergy needs is doable, but it may take a little research to figure out what will work for you and what won't. For example, nuts are often suggested as a healthy snack, loaded with nutrients and healthy fats. If you're allergic to tree nuts, you may be able to substitute roasted chickpeas or pumpkin seeds. As always, check labels to be sure the foods you're selecting are safe for your specific allergic needs.