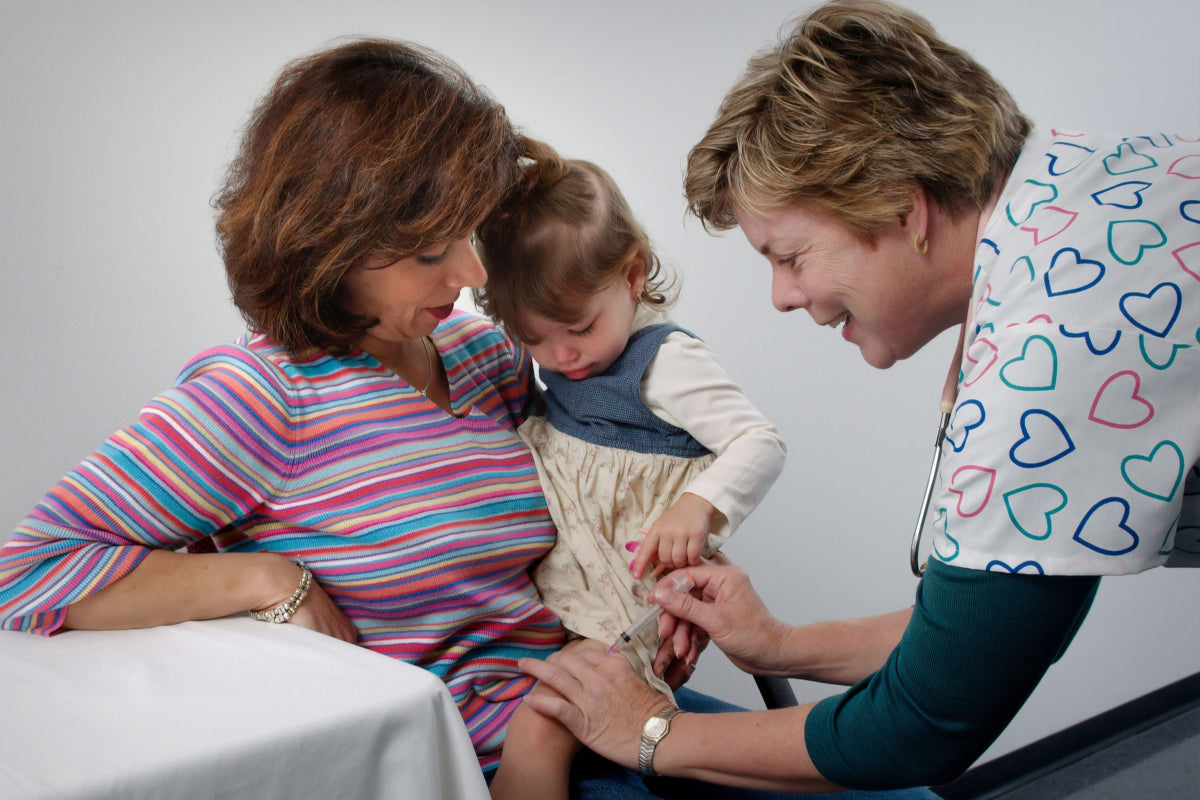 Finding out your child, or someone else you care for, may have a food allergy can be terrifying. It doesn't matter if the reaction was on the "milder" end of the scale or the outright life-threatening end, you've heard the stories. The scary ones. You've got an appointment with an allergist, but frankly, even having to walk to that appointment seems scary. What will she say? What will she do? What if….? Right, you get the idea. 
Take a deep breath. Knowing how to prepare for an appointment and what to expect can help soothe some of the anxiety you may be feeling. 
What is an allergy?
First things first, let's define what we're talking about. A food allergy is when your immune system wrongly identifies something like a food protein as something harmful and overreacts in an attempt to destroy it. 
What does a reaction look like?
Right now maybe you're hoping you overreacted and this really isn't anything to worry about. Let's be clear, that's something the allergist is going to help figure out. However, understanding what a reaction might look like and identifying which symptoms you or your loved one experienced can help your doctor with that diagnosis. 
Like any allergic reaction, food-triggered reactions can range from mild (itching in or around the mouth, a runny nose, mild nausea or discomfort, and/or a few hives) to the severe (shortness of breath, wheezing, drop in blood pressure, dizziness, blue-tint to the skin, trouble breathing or swallowing, tightness in the throat, significant swelling of the tongue or lips, widespread hives, repetitive vomiting, severe diarrhea, confusion, and an impending sense of doom). 
You might experience multiple symptoms or just one symptom. And going forward, it's important to know that just because this reaction looked one particular way, doesn't mean future reactions will be the same. 
What should I do before we go?
Check with your doctor's office the week before your visit and ask about whether or not your child should be avoiding certain medications in the days leading up to the appointment. Antihistamines, for example, can interfere with the tests. Don't just assume you need to put the breaks on certain meds, however. Talk with your doctor before discontinuing any medication your child is taking regularly. 
You should also keep a journal or take notes that may help the doctor identify any potential patterns between what your child has been eating and how they may be potentially reacting. But don't just stop at food! Include things like your laundry detergent, the lotion you apply to dry skin, the pets in your house, and other potential triggers. Write down any suspected reactions or other potential symptoms. Take note of how much time it took between a meal and the appearance of a suspected reaction. Write down any medications you gave your child to treat symptoms. 
Be packed and dressed for the occasion
This could be a long visit – whether that's time spent in a waiting room or time spent in the exam room waiting for test results to be read, your child is going to need some distractions. Pack an activity bag. Skip the snacks. Seriously, skip them. The food you're packing may not be a trigger for your child, but they could be for another patient. Chances are pretty good your doctor's office isn't going to allow food in the waiting room or exam rooms anyway. 
You'll also want to dress in testing-friendly clothing. Skin prick tests (SPT) are conducted on the forearm or back. You'll want to wear clothing that makes it easy for the nurse to access your arm or your back. You'll also want to make sure that once the test is administered there is no clothing or other irritation to disrupt the testing process so the doctor can clearly read and interpret the results.
What will happen during the visit?
It depends on the allergist and your particular situation, but odds are your visit will begin with something that looks a lot like a general physical. Someone will check your child's height and weight. They'll check blood pressure, pulse, and temperature. When the doctor comes in, he may listen to your child's lungs, heart, ears, eyes, nose, and throat. He'll probably ask a lot of questions. 
Allergy testing alone is not an accurate tool and a full medical history should be used to help give test results context. Sloane Miller's interview with Dr. Dave Stukus explains this well. Based on your child's health history, the exam, and the input you've shared about the experience that led to this appointment, the allergist may have a nurse come in to administer the SPT. He may also order blood testing to help give more context to the results from the skin test. 
And then what?
There are a few different scenarios and those will depend on your allergist and her diagnosis. If the test results and health history were inconclusive, she may want to schedule another visit for a food challenge. She may confirm an allergy, complete an allergy action plan, and give you a prescription for an autoinjector of epinephrine. And she may ask you to set up a follow-up visit after the results of the bloodwork are in. 
Whatever happens, if a food allergy is confirmed, this visit has been the first in a long partnership. Be sure this is a doctor who encourages you to ask questions, who listens to your feedback, and who you can trust. (And if you can't, then look for another allergist because this is a long-term relationship!)