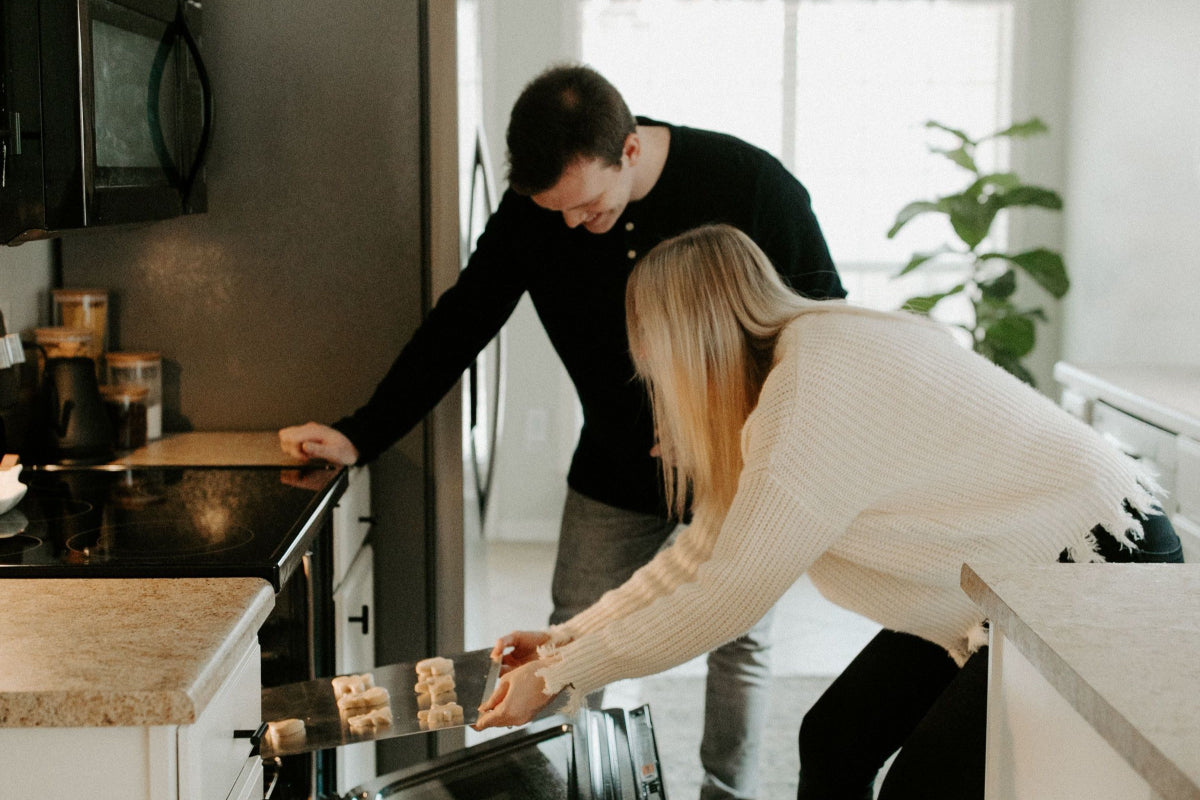 Whether you're baking a long list of cookies, perfecting your kugel, or just trying to figure out the ins and outs of allergy eating of the first time, there's been a recipe in the last few days that you've looked at longingly and muttered, "If only it didn't have [insert your allergen here]." 
Traditions around holidays and other social occasions are tightly linked to specific foods and that can be a challenge for families that need to navigate life avoiding some of those ingredients. Here's the good news, a little creativity and experimentation can help you adapt your great-great-grandmother's recipe for the perfect shortbread to a dairy-free version everyone can enjoy.
Before we break down some of the more common "this for that" options, we need to talk about the importance of giving yourself a little wiggle room to plan and adapt. Not every substitute is up for the job. Some are better at recreating certain aspects of a particular ingredient but fall flat when used in another scenario. Allergy-adapted cooking can require a few trial runs of experimentation. Your flax egg might be perfect in making meatballs but you find applesauce a better substitute for Grandpa George's famous banana bread…or vice versa. The point here is this: before you invest the time and ingredients into a tray of cookies for the neighborhood cookie exchange, run through a few practice runs on a recipe you're adapting for the first time. 
Egg Swaps
Eggs can have several jobs when it comes to baking. They bind ingredients together. They can be a leavening agent. They can add moisture to the finished product and they can add or enhance flavor. They can also influence the color of your baked goods. Keep this in mind as you experiment as your substitute can change the look, texture, and even taste of the finished product. Some options to use instead of eggs include: 
¼ cup of unsweetened applesauce

¼ cup of pureed fruit like banana, avocado, or pumpkin

1 tablespoon of ground flaxseed or chia seed mixed with 3 tablespoons of water

¼ cup of silken tofu

1 serving of commercial egg replacer

1 tsp of baking soda with 1 tablespoon of vinegar

¼ cup of unflavored yogurt or buttermilk

2 tablespoons of arrowroot powder and 3 tablespoons of water

3 tablespoons of aquafaba (the liquid found in a can of chickpeas or beans)
Peanut Butter Swaps
From chili to candies and cakes, peanut butter can be switched out for other nut butters, if you're not also avoiding tree nuts. Alternatively, you can use options like soy butter, sunflower butter, and related products made of peas. Often these products offer a peanut-like taste and familiar consistency and can be swapped out without issue. 
Milk Swaps
There's a wide range of milk substitutes on the market today and you can swap traditional dairy in many recipes for any of them. Some options can influence subtle to pronounced changes in overall taste, so again, be sure to trial run your adaptations ahead of time to identify the right swap for you. From nut milks to soy or oat milk, you've got choices. Finding substitutes for butter or other dairy items can take a little more finesse. 
For butter, experiment with options like: 
Coconut oil

Fruit puree

Margarine

Vegetable shortening 

Olive oil
For sour cream, try:
Vegan sour cream 

Vegan yogurt

Coconut cream

Cashew cream
Wheat Swaps
Remember, there is a difference between being allergic to wheat and having a gluten intolerance. If you're dealing with an allergy, you need to do more than simply grab a bag of gluten-free whatever it is you're trying to substitute. Scan the ingredients and be sure the option is also free of your allergen. As with the other substitutes above, the alternative flour you grab can influence texture and taste. Take the time for those trial runs to be sure the end result is what you want it to be. Wheat-free flours may be drier or absorb liquids more readily. You may need to adjust how much you're using to accommodate those changes. 
Your flour alternatives include: 
Rice flour

Tapioca

Potato starch

Coconut flour

Tree-nut flours

Quinoa flour

Alternative grains like buckwheat, rye, and oat