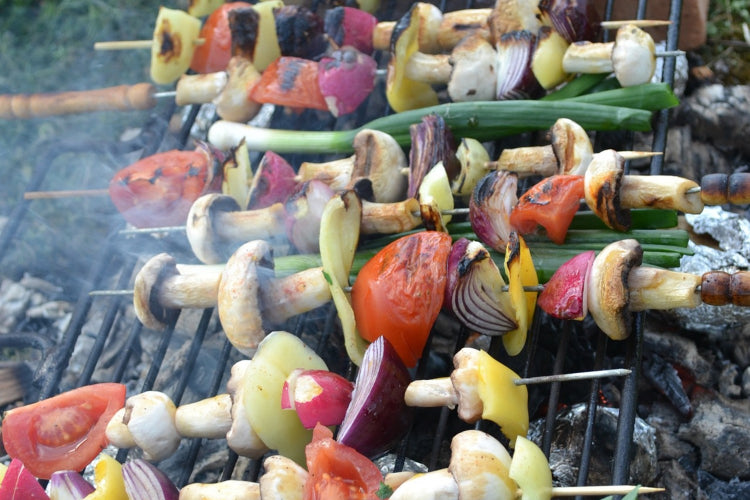 Light the grill, grab your tongs, and get ready to barbeque! Nothing says summer more than a meal cooked out on an open flame and served on plastic plates in your backyard (or at the campground!) Food allergies don't have to keep you from enjoying this American pastime. From appetizers to desserts, the grill can be a great way to make scrumptious meals for your family, regardless the food restrictions you're juggling.
First Things First: Clean It
Yes, food proteins can linger behind on the grates of a grill. Before you toss your meal on there, take a few minutes to clean your grill and remove any residue that may have been left behind from previous use. This isn't a job for your handy-dandy scrub brush and scraper. Traces of food proteins can remain even if you've chipped away all the crusty flakes of previous scrumptious meals. Get yourself a sturdy cloth and some soapy water to swash those grates clean. Don't forget to use soap and water on the lid also.
Reach for the Foil
If you're not comfortable with your ability to get your grill completely clean, you can also place a piece of tin foil on the cooking surface as an extra precaution. Alternatively, you could cook food in foil packets to reduce the risk of cross contact with traces of allergens from other food being prepared or left behind on the grill.
Rubs and Sauces
If you're favorite go-to grilled dish requires a classic rub of seasonings or some time marinating in a luscious sauce, read the label carefully. Make sure the pre-packaged spice mix, marinade or BBQ sauce is free of the allergens you're avoiding. Alternatively, you can mix up your own combination of salt and spices or make your own sauce like this recipe from FARE: Barbeque Sauce.
If you're looking to kick-up your steak game a notch, make your own teriyaki-style marinade using soy-free balsamic vinegar, olive oil, honey, garlic, and a bit of ginger. You can mix the ingredients to taste and let your steak marinate over night before you grill it.
Dogs and Burgers
Some foods are a natural fit for grilling like hot dogs and hamburgers. Remember, check the labels on those products before you buy them. Hot dogs, as an example, can contain dairy. Pre-made hamburgers may contain cheese, wheat and other ingredients. Take the time to review the labels as you would anything else you buy. When in doubt, make your own hamburger patties. Add in salt and seasonings that are allergy-friendly based on your family's and guests' needs.
Egg-Free Potato Salad
Potato salad is another summer barbeque staple and one that can cause a problem depending on the allergens you're avoiding. If you or a guest is avoiding egg, you'll want to look for a vegan mayonnaise to use for your potato salad (or any other mayo-based salad destined for your table). Another option is to try this delicious sounding Red, White, and Blue Vegan Potato Salad from Go Dairy Free. This dish uses Dijon mustard to add a creamy, zesty zing instead of relying on mayo. Yum!
Dairy-Free, Egg-Free Coleslaw
Whether you're grilling up some burgers, ribs, or chicken, your guests will enjoy a side of coleslaw. Traditional recipes can contain egg (in the mayonnaise) and dairy. Swap out store-bought slaw for this vegan twist from Connoisseurus Veg: Creamy Vegan Coleslaw.
Corn on the Cob
If corn isn't on your allergy-watch list, you may want to add a few ears to your barbeque menu. If you're avoiding dairy, you've still got some delicious ways to dress up your corn that transcend a pinch of simple salt. For example, combine ¼ of maple syrup with 2 tablespoons of Dijon mustard and a pinch of allspice. Spread the mixture over your ear of corn while it's still hot and savor the flavor! Are you a fan of guacamole? Spread some over hot, cooked corn and then top with a squeeze of fresh lime.
The Finishing Touch
What's a summer barbeque without a sticky sweet s'more? This classic treat can be tough to enjoy with food allergies. Guests with gluten sensitivities, wheat allergies, milk allergies, and egg allergies can find it difficult to make s'mores safely. Thankfully, there are alternatives like this treat from Allergic Living: Allergy-friendly S'mores Bars.