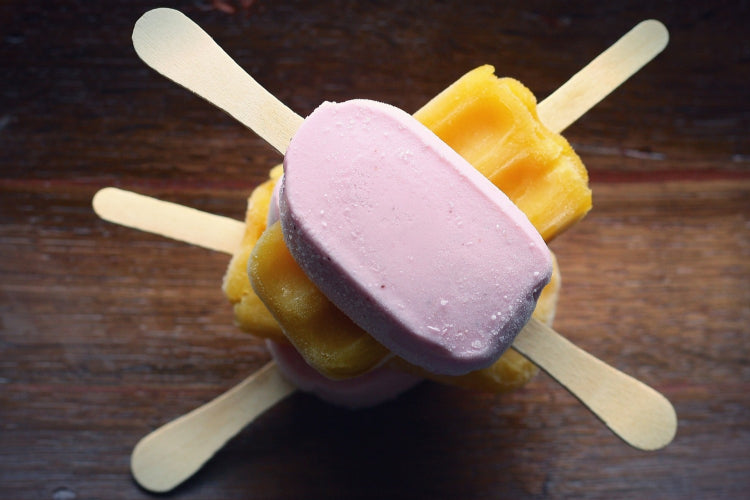 Welcome to the dog days of summer. The temperature rises. The humidity makes the air feel heavy. Venturing outside on a day like this may feel daunting unless you're headed somewhere to sit poolside with a frozen treat in hand. Sounds good, right? If your family menu has to take food allergies into consideration, try these sweet, cool treats on for size.
Dairy-Free Fudge Pops
Milk allergies are no reason to forgo the classic fudge pop. Grab yourself your favorite popsicle mold and some popsicle sticks. In a blender or food processor, combine 2 ripe bananas, 2 cups of rice milk, and 2 tablespoons of unsweetened cocoa. For an added nutritional boost, you can add a couple of tablespoons of chia seeds to the mixture too. Pour the well-blended mixture into your molds and wait as patiently as you can for 3-4 hours until they are set.
Summer-Ready Homemade Granita
Nothing says summer quite like fresh-fruit flavored cold treats. Luckily, it's easy to make your own version of this heat-wave staple. Start by dissolving ½ cup of sugar in 1 cup of very hot water. (If the sugar isn't dissolving, try microwaving the mixture for about 30 seconds.) Add your simple syrup, your favorite fruit (strawberries are a great option!) and the juice and zest of one lemon to a blender. Mix until it's smooth, pour into a glass baking sheet, and place it in the freezer. Stir your yummy treat every 30 minutes to combine the frozen edges and the remaining liquid. Once it's mostly frozen, rake the surface with a fork to create a flakey, icy, mound. Cover and freeze until you're ready to enjoy. Experiment with different fruits (or fruit combos!) to make your own one-of-a-kind dessert.
Italian-Ice Inspired Jello
Jello has no shortage of fans. Try kicking it up just a notch with this frosty spin on a time-honored dessert. Combine one box of your favorite Jello flavor with 1 cup of boiling water and whisk until it's well combined. Add in 2 cups of lemon-lime soda and stir well. Place the mixture in the freezer overnight. When you're ready to serve it, use an ice cream scoop to save the ice.
Dairy-free Orange-Creamsicle
With its luscious layers and sunny colors, creamsicles are a quintessential summer treat. Think they're off-limits for your dairy-allergic family? Think again. Pull out your popsicle molds again for this one. In one bowl, mix 1 cup of full-fat coconut milk, 1 ½ teaspoons of vanilla, 2 tablespoons of pure maple syrup and a pinch of sea salt. In another bowl combine 1 cup of orange juice with 1 tablespoon of maple syrup and a teaspoon of orange zest. Fill a quarter of each mold with the vanilla mixture and freeze for 20 minutes. Add a layer of the orange juice layer and freeze for another 20 minutes. Continue layering in this manner until your molds are full.  Add the popsicle stick when the layered treats are firm enough to support the stick in an upright position.
Experiment!
These recipes should give you a great foundation for homemade hot-weather snacks. Try to mix and match fruits, use different dairy-free milks like coconut milk, hemp milk, and others to switch up flavors. Pull out your ice cream maker and try standard homemade ice cream recipes substituting in milk alternatives and allergy-friendly add-ins. These treats are a great excuse to stretch your creative muscle and embrace your allergic-living kitchen wizard skills. Give it a try and then join the conversation in the The Allergy Ninja Facebook group to share your favorite frozen dessert recipe with us!