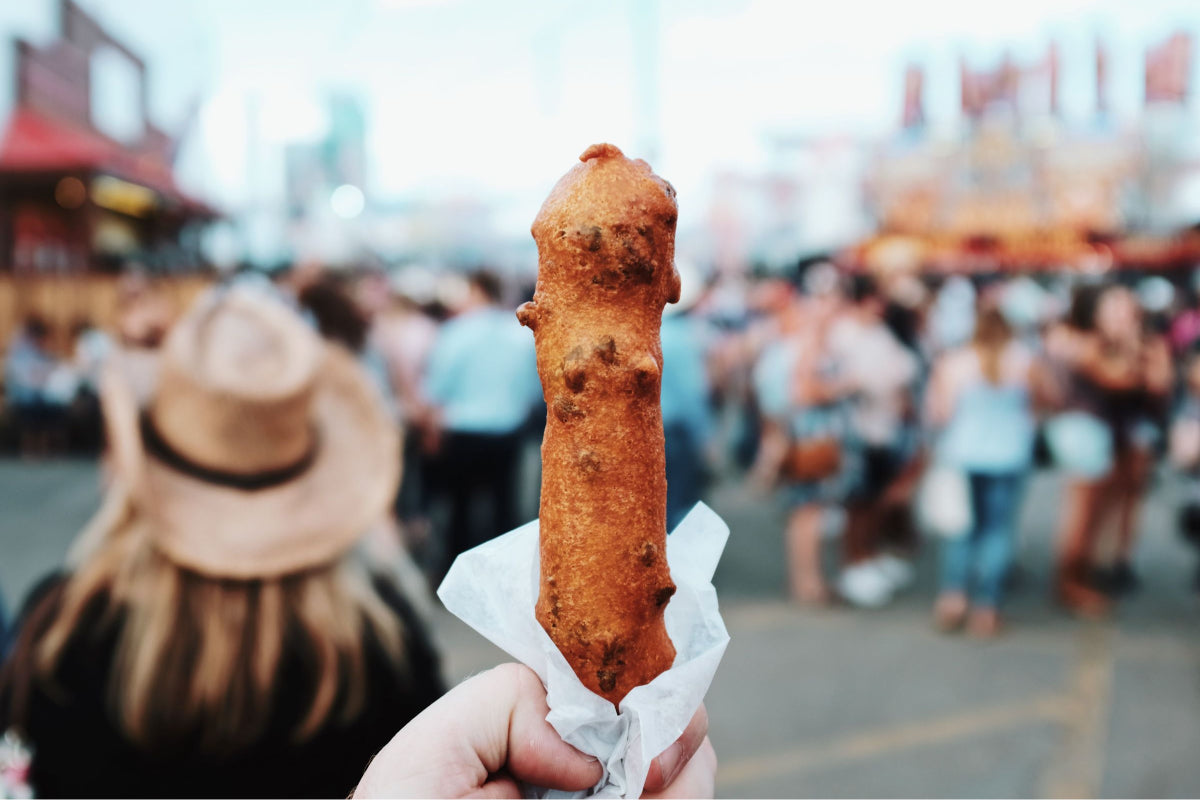 The school year has come to a close. The days are longer and warmer. Whether your family is spending days split between work and camp or lounging on the beach and hiking through parks, you're seizing the perks of the season. 
At some point in the midst of your summer fun, you're going to need to hit pause and pull together something for dinner. It's the perfect time to pull out some quick and easy dishes that don't heat up the kitchen and don't take you away from the fun for long. Need some ideas? These should get you started!
Corn Dogs
There's just something quintessentially summer about a corn dog. Of course, for families avoiding egg, dairy, and wheat, the corn bread batter used to coat the hot dog can be a challenge. That doesn't mean it's impossible, however. Recipes like these gluten-free, egg-free, dairy-free corn dogs from A Little Insanity are a great alternative to the traditional batter dipped dogs. 
Don't be afraid to experiment a little to create your own family twist on things. As an example, we've made a hot dog cornbread "pizza" when we were short on ingredients to make fully dipped corn dogs. Using chicken- and turkey-based sausages, we baked the dogs on top of a cookie sheet full of corn bread batter. It was a hit in our house!
Lettuce-Twist Tacos
Next Taco Tuesday, swap out your flour tortilla and corn-based crispy taco shells for a leaf of butter lettuce. This recipe from Rachael Roehmholdt layers a chicken and veggie mixture that offers loads of flavor and a bit of crunch. The dish does use water chestnuts. Nut allergic families should verify with their allergist before adding these into their diet, however, water chestnuts are aquatic tuber vegetables more closely related to potatoes than tree nuts. If you'd rather not incorporate them into your dish, try substituting turnips or celery. 
Sweet & Tart Grilled Chicken 
Bottled barbeque sauces can contain several common allergens. Yes, you can make your own or you can find labels to identify a safe, store-bought option for your family. Both are viable choices. You can also skip the sauce and go for something bright and scrumptious like a simple citrusy-smokey grilled chicken with a side of strawberry salsa. Start by marinating your chicken in 2 tablespoons of fresh lime juice, about ½ tablespoon of zest, a bit of kosher salt, ½ teaspoon of smoked paprika, and ¼ cup of olive oil. You can set aside a bit of the marinade to drizzle over your cooked chicken later if you'd like, or you can just drop your cuts of poultry in the whole mix. (Just remember, you can use the liquid your chicken's been sitting in later!) 
You need at least a half hour to let the chicken marinate well. When you're ready, fire up the grill, remove the chicken from the lime mixture and grill until cooked. To serve, drizzle over any of the reserved liquid you kept aside and top with a strawberry salsa, which is a mixture of finely chopped strawberries, thinly sliced green onion, fresh mint or basil, a bit of kosher salt, and a splash of lime juice.
Flavorful, Dairy-Free Pizza
Recipes like this Armenia Pizza can easily be adapted for wheat-allergic families by swapping out flour tortillas for a safe alternative. Alternatively, layering on flavorful toppings can create a pizza you'll love without the dairy you can't have. Variations like this Grilled Hawaiian BBQ Chicken Pizza layer flavors for a unique twist on a favorite dish without the cheese. 
You may have to adapt your crust recipe based on your allergies. There are plenty of wheat-free pizza dough recipes out there, however, some of them may incorporate other allergens like almond flour. Experiment with flours and recipes that meet your family's specific needs. Be aware that many cauliflower crust recipes incorporate cheese to help bind and flavor the crust and other recipes use egg or nut-based flours.
Chocolate Covered Katie
has an adaptable recipe that can easily accommodate whatever allergen you're looking to avoid.