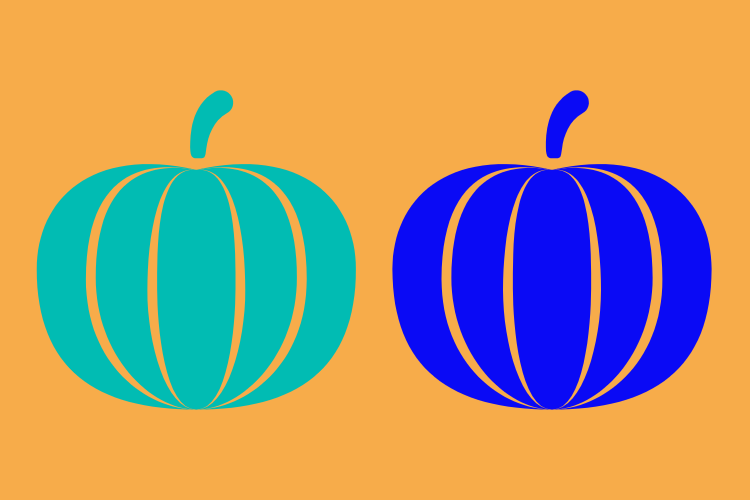 From store shelves to front porches, pumpkins are sporting a vast array of colors these days. This Halloween favorite is no longer just an orange squash that you carve or paint faces on. The plastic ilk that children will hold out so you can drop treats in comes in hues ranging from pinks to greens. Some color choices are just for fun. Some, however, have a meaning.
Teal Pumpkins = Food Allergy  
The Teal Pumpkin Project launched in 2012 as a local effort by one Tennessee mom quickly spread to a national movement. The project includes both a give and take element and is aimed at giving food allergic children a safe alternative treat to candy that may not be safe for them to eat. Homeowners who want to participate can place their items in a teal bucket or post a sign indicating their participation. Treats should be non-food items. Children who are participating can carry a teal bucket to indicate they're a food-allergic trick or treater who would love to make a selection from your teal pumpkin project options. What would those options include? That's a great question and we'll get back to that in a moment.
Blue Pumpkins = Autism 
Food-allergic children aren't the only participants who can find Halloween more trick than treat. For children with autism, the potential for sensory overload is high. In addition, children who are non-verbal or older teens and young adults who are developmentally delayed can encounter homeowners who may misjudge their silence or size. Enter the blue pumpkin. Trick-or-treaters carrying blue buckets are managing sensory challenges, developmental delays, or have other special needs. Their blue pumpkin is a signal to the rest of us that this trick-or-treater may not speak to us or make eye contact. Your jump-scare decoration may be more than she can handle, so she's going to skip your house. The blue is a simple reminder to extend an extra dose of compassion and patience, which is actually a good bit of advice for no matter who is at your door.
Ok, What Do I Hand Out Then?
Blue-bucket-friendly homes don't necessarily need anything specific beyond that extra helping of compassion and patience. Teal-bucket-friendly homes, however, should have some non-food options to offer. Remember, while there are 8 particular foods that are responsible for the majority of food allergens, folks can be allergic to any food. There is no such thing as an "allergy-free" edible item. There are simply foods that fewer people are likely to be allergic to. If you want to hand out some of those, aim for items that are free of the top 8: milk, eggs, wheat, peanuts, tree nuts, fish, soy, shellfish. Just note, your top-8-free candy is not teal-pumpkin worthy. Children with corn allergies, as an example, aren't going to be able to enjoy those Skittles you're offering.  If you want to offer both candy and non-food options, that's awesome! Just, keep your Teal Pumpkin treats in a separate bowl.
Speaking of those treats, you actually have a wide range of affordable and fun non-food choices, especially as awareness of the Teal Pumpkin Project grows! Stores that normally stock those extra-large Halloween-themed bags of sugary treats are also filling their shelves with inexpensive non-food options. Some ideas include:
Glow sticks
Bubbles
Spider rings
Vampire fangs
Stickers
Small toys
Pencils and mini-notebooks
Temporary tattoos
Finger puppets
Balls
Craft kits
Mini-flashlights
Plastic or other novelty bracelets
Spread the Word
The Teal Pumpkin Project and the blue pumpkin have taken their place as recognizable annual traditions due in large part to word of mouth. Help keep the momentum going. One easy way: Take a picture of your teal pumpkin and your stash of allergy-friendly treats, then post it to social media using the hashtag #tealpumpkinproject.