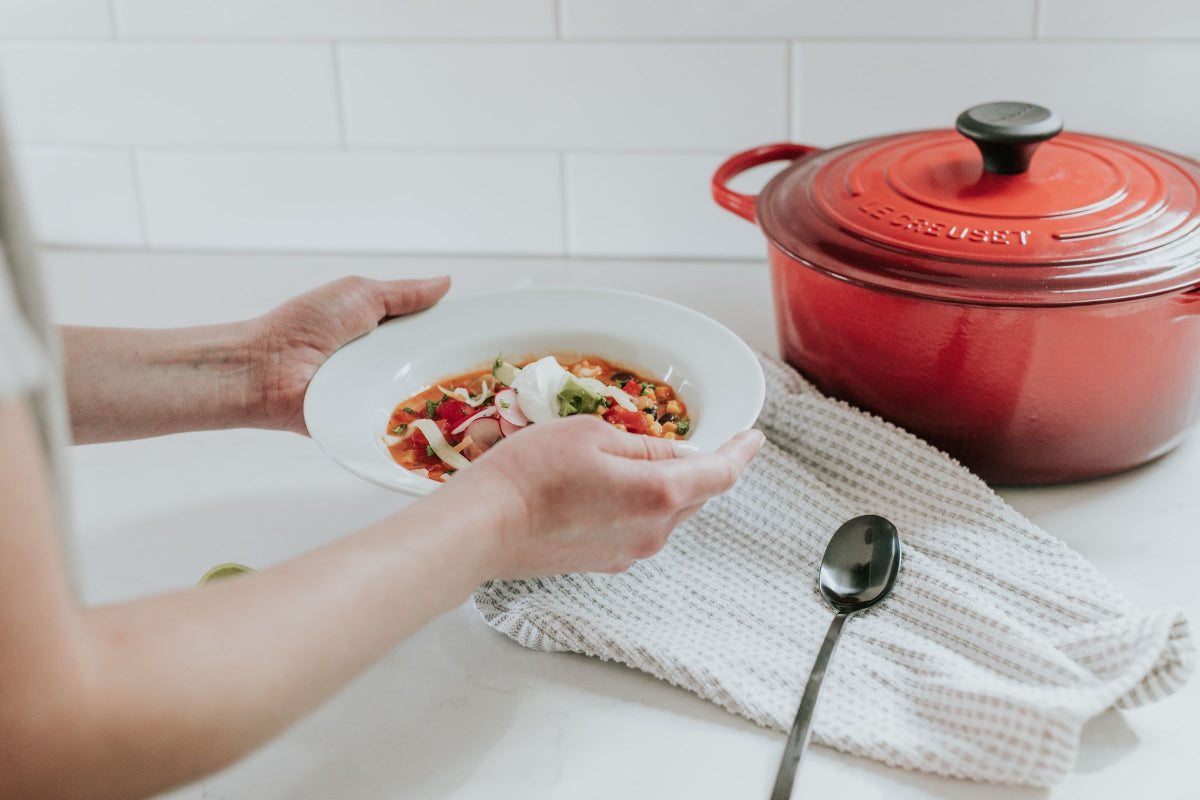 Regardless of what the groundhog, the calendar, and the weatherman say, it's hearty, warm soup weather for at least another month or so. Even as the days get longer and the spring bulbs poke their pale green stems above the soil of your flowerbeds, biting winds and cool temps can still crop up and linger. (And of course, the right soup is just as yummy in the middle of June too, but that's a story for another time.) If you're looking for some quick and filling ideas to feed your family, try these allergy-friendly soup bowls. 
Taco (Soup) Tuesdays
Your spoon will be loaded with protein-rich (and filling) beans and chicken with this Taco Soup recipe from Allergy Awesomeness. It's also loaded with flavor, thanks to the homemade mixture of seasonings that you can tweak to your own taste. Free of the top-9 allergens, this is one to consider. Even better, it's easily adaptable if you've got additional allergens to avoid. 
Big Bowl of Comfort 
If you're avoiding soy or coconut, you'll need to make some substitutions, but this recipe by Allergy Friendly on All Recipes is safe for those avoiding most of the major allergens. Need to swap out the soy sauce for a safe alternative? Shelf Cooking has a list of options you can use instead, including a recipe to make your own with beef bouillon, balsamic vinegar, molasses, and spices. 
Butternut Squash Soup Without the Dairy
Butternut squash soup is full of sweet, savory goodness to warm you up from the inside out. Most recipes, however, call for a bit of cream in the final steps to smooth out the soup and cream things up. You can swap out the cream in standard recipes for a safe alternative like oat milk, or you can give this recipe from The Pretty Bee a try. 
Sweet Potato, Turmeric, and Carrot Soup
The rich, orange hue is almost as bright and pleasing as the taste in this bowl full of goodness from Kam Sokhi. This soup is loaded with healthy vegetables and spices too – from the carrots and sweet potatoes in the name, to the leeks, onions, garlic, ginger, cumin, coriander, and turmeric. Load up a bowl and enjoy the warmth. 
Broccoli Cheese Soup Without the Dairy
Broccoli cheese soup deserves a space in your catalog of recipes. The good news is that with this dairy-free alternative from The Fit Cookie, you can skip the milk-based cheese and still enjoy the full yummy experience of a bowl of this popular soup. This recipe uses coconut milk to boost the creaminess, but also offers substitutes if that's one you're avoiding. 
Don't Pass Over This Matzo Ball Soup
If you only break out the matzo ball soup for Passover, take a minute to look this one over anyway, especially if you're avoiding wheat, egg, or other allergens likely to pop up in the recipes you know. This recipe from Cybele Pascal offers an allergy friendly twist to the traditional soup that can be enjoyed at any time. You'll need corn flour, potato starch, quinoa flakes, and xantham gum in addition to other ingredients, so review the recipe and make your shopping list ahead of time.