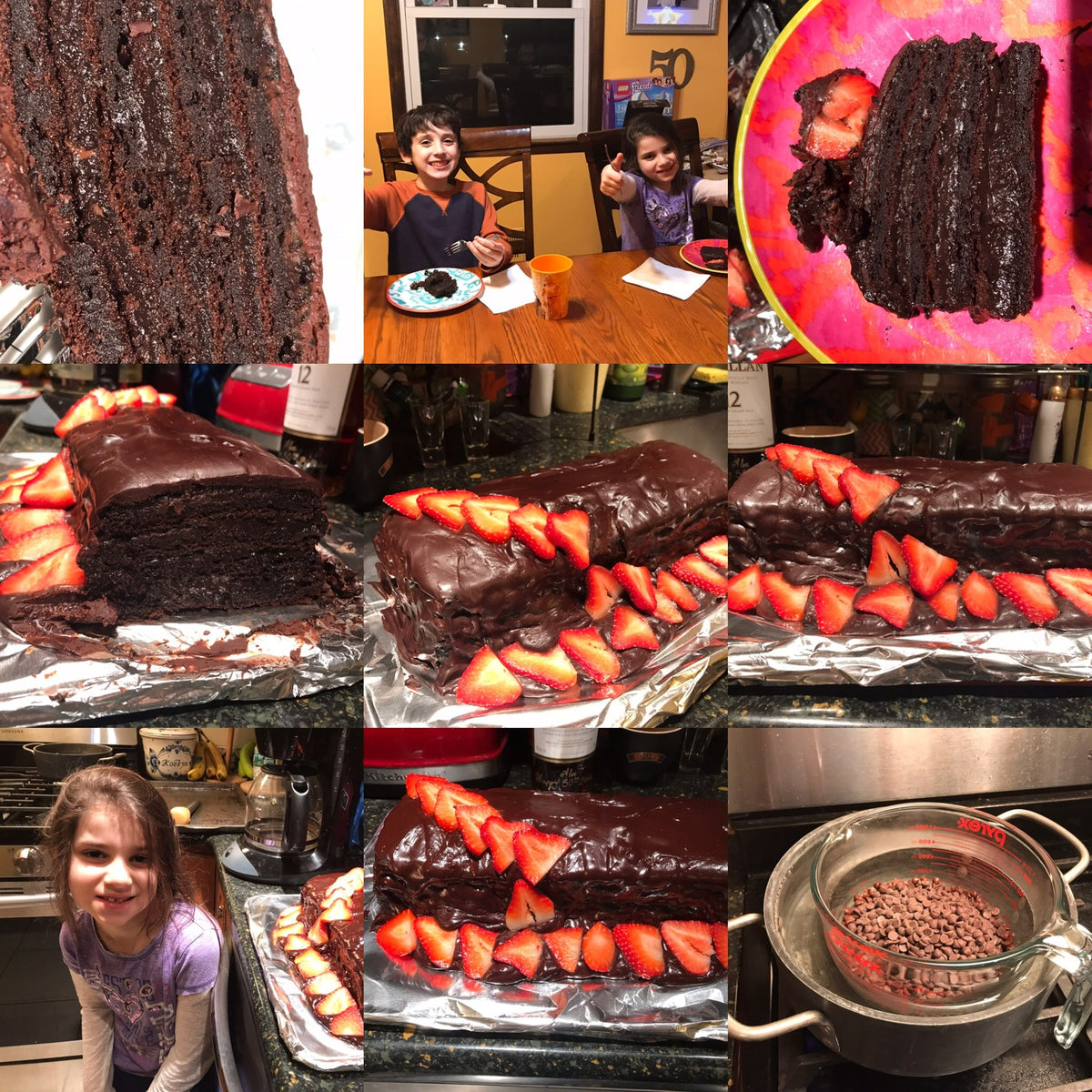 An allergy safe seven layer cake that we call our version of death by chocolate. The kids heard about my famous 24 hour New Years 7 Layer Cake and wanted to make their own safe version. Next round will be a vanilla cake version. This was fun and easy and the kids gave it the thumbs up. By the way, there are vegetables in that cake so it is healthy and allergy safe.  The cake filling layers are made with homemade pudding and the outer layer is homemade chocolate ganache poured over the top and on the sides.
The trick to making the layers is to bake your favorite allergy safe cake in a jelly roll pan.  Line the pan with parchment paper so it will be easy to lift and stack.  We used sweet potato purée as an egg substitute.
Chocolate Pudding:
6 Tablespoons Cornstarch
4 Tablespoons Water
3 Cups Soy or other dairy free milk
1/2 Cup Granulated Sugar
1/2 Cup Unsweetened Cocoa Powder
In a saucepan, combine cornstarch and water to form a paste, over medium heat add the rest of the ingredients.  Stir until the mixture boils.  Continue stirring constantly until the mixture thickens to a pudding consistency.  Remove from heat and cool for 5 minutes and move to refrigerator to chill completely.
Chocolate Ganache:
Using a makeshift double boiler or a real one, melt 16 oz of allergy safe semi sweet chocolate chips or chocolate bits.  When melted add 1/4 soy milk or other dairy free milk to make the mixture pourable.
Assembling the Cake:
Tip - assemble on the serving platter
Cut the cake in 4 equal pieces or strips.  Layer a slice of cake and a layer of pudding.  Alternate until all the layers are in place.  You can cover the whole cake in any left over pudding and then pour the ganache over the top and down the sides.  
Add sliced fruit as decoration.  Chill the cake overnight if possible.
Enjoy!