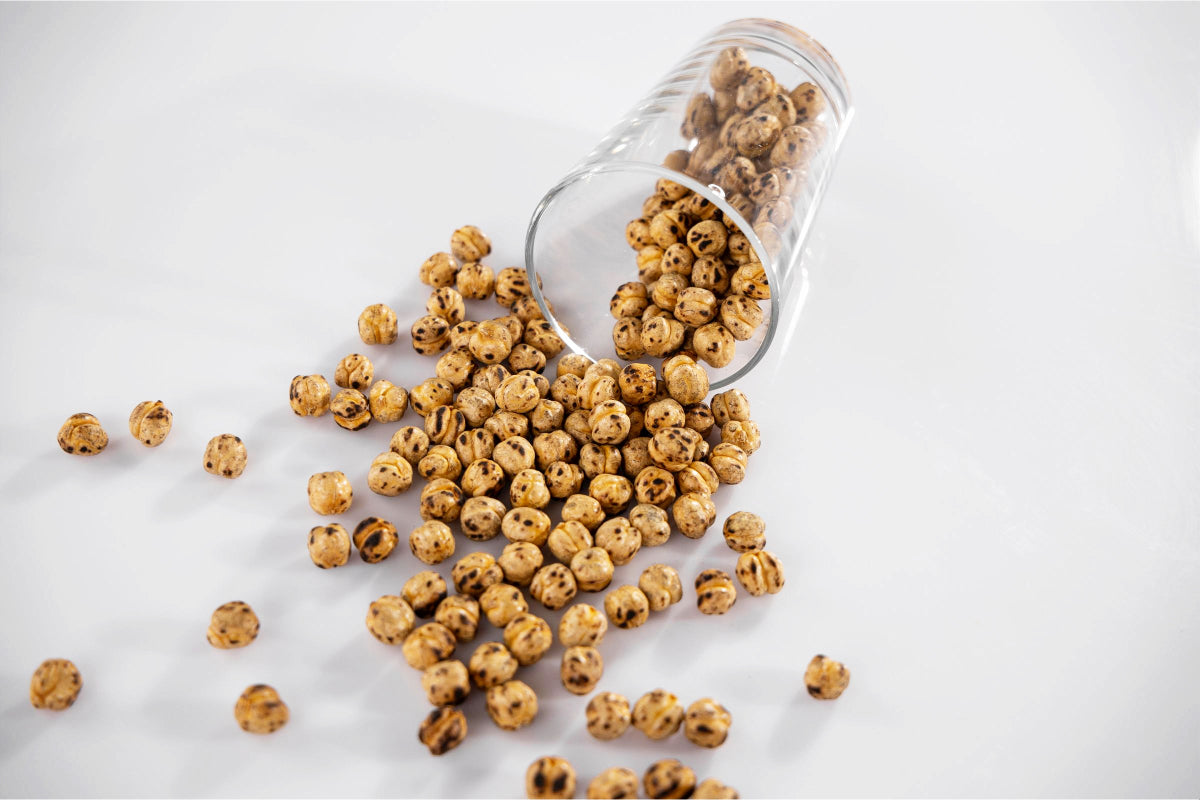 Whether you're packing the suitcase and traveling or you're staying close to home this summer, you and your family will likely be spending some time out and about together. From road trips to afternoons enjoying the warm sun on the beach, having a stash of easy-to-assemble, allergy-friendly, on-the-go snacks and treats is a must. We've pulled together a few options to get your ready-to-run snack repertoire started. 
As always, screen the recipe before you get started to be sure it's safe for your allergies and make adaptations where necessary. Don't be afraid to experiment to make a recipe something your family can safely enjoy!
Roasted Chickpeas
If you're not avoiding legumes across the board, roasted chickpeas can be a crunchy, nutty-flavored option for peanut and tree nut-allergic folks. They're also easy to make (and customize) on your own. Drain two cans of chickpeas in a strainer and then rinse thoroughly under running water. Be sure you take the time to dry them as much as possible. Use two clean dish towels and gently roll the chickpeas until dry. Toss the dried chickpeas in 2 tablespoons of olive oil. Don't skimp on the oil if you like crispy roasted treats!
Sprinkle about a teaspoon of sea salt over them and then place them in a 400 degree oven for 20-30 minutes. They're done when golden. They should be dry and crispy on the outside but soft in the middle. For a little extra kick, sprinkle your freshly-roasted chickpeas with a spice blend of your choice. Play around with spice and herb combos to create your own signature blend. 
No-Nut Granola 
Good granola is fantastic on top of allergy-friendly yogurt, on top of salad, or tossed into some of your favorite baked goods. For road tripping, it's an easy snack that fits in nicely in a small container as a snack on its own. Of course, the kind you pick up in the store often contains nuts or bears a cross-contamination warning. Making it on your own gives the flexibility to customize the granola mix to ensure it's something you can enjoy without the allergic worry. This recipe from Bon Appetit is a great nut-free option.  
Allergy-Friendly Trail Mix
Like granola, trail mix is a great grab-and-go snack that is also often a no-go for folks with nut and peanut allergies. Making your own mix of seeds and dried fruits puts trail mix back on your radar. Recipes like the Best 5-Ingredient Nut-Free Trail Mix from Chelsey Amer Nutrition and Monkey Munch Trail Mix from Jessica Fisher are great recipes to draw inspiration from. Here's the secret you need to know for this one – trail mix is made to be experimented with and customized. Make it your own. Use ingredients that are grab-and-go friendly, within your safe list of foods, and that you enjoy.
No-Bake Energy Balls
Sweet pitted dates and/or honey can hold together oats and other power-packed ingredients to create yummy treats that fit your grab-and-go needs well. You can experiment with combos that work best for you or you can try Cupcakes & Kale Chips' Apple Cinnamon Energy Balls and Gimme Some Oven's Pumpkin No Bake Energy Bites to get started.     
Fruit Leather
Making your own fruit leather gives you the benefit of tailoring the flavors to your preference, as well as ensuring the treat is allergy-friendly. You can also make it healthier than prepackaged brands. The best part is it couldn't be easier to make. Preheat your oven to 150 degrees. Line a cookie sheet with parchment paper and set it aside. In your food processor, blend 4 cups of your favorite fruit (or fruit combos!) with about 2 tablespoons of honey. You can add more or less honey depending on your personal preference. You can also splash in a little lemon juice to brighten the flavors a bit if you'd like. 
Pour your mixture onto the parchment-lined pan and spread it out into a thin, even layer that's no more than ¼ inch thick. Place your fruit mixture into the warm oven for about 6 hours until the leather is dehydrated enough to easily peel away from the parchment. Let it sit on the counter for at least 4 hours (or overnight!) to fully cool and dry. Before you hit the road, use scissors to cut your fruit leather on the parchment paper into strips and roll them up into individual servings.