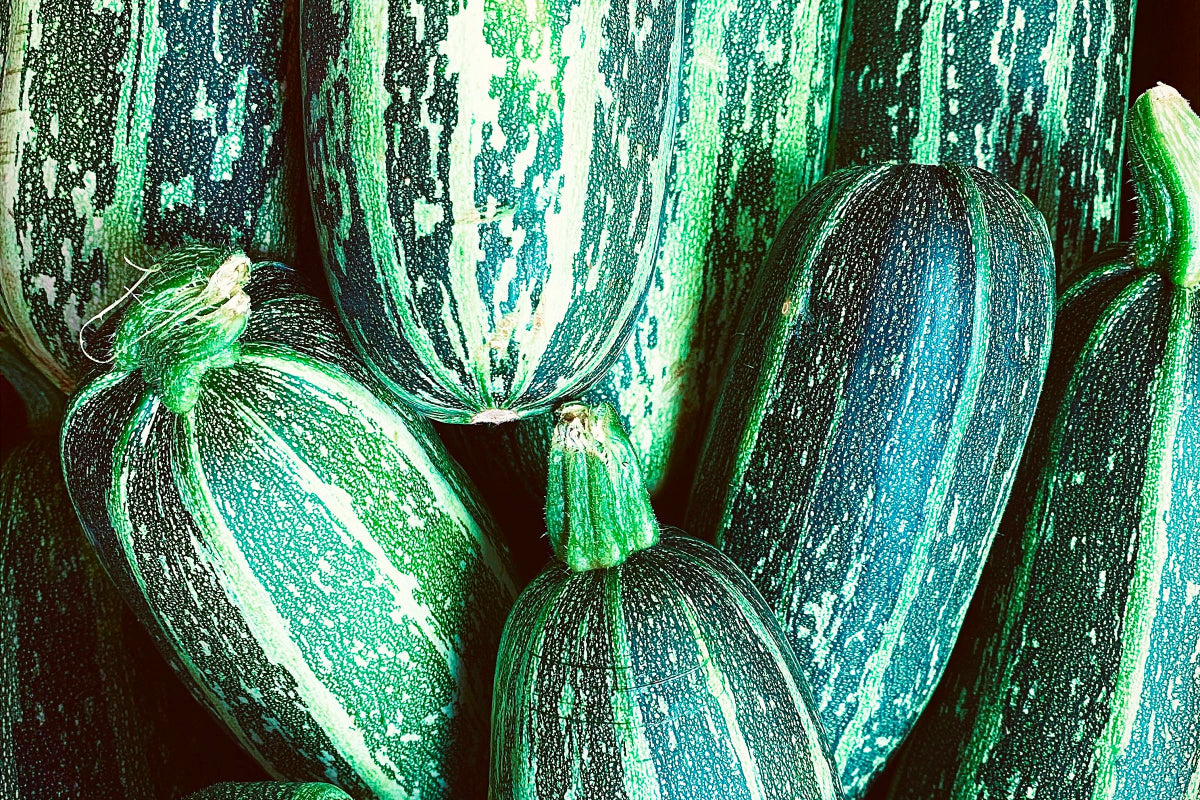 If you have a home garden or you've splurged at the farmer's market lately, you may have an overabundance of zucchini piling up on your kitchen counter. What does one do with all that delicious, healthy produce? Pull out the muffin tins, the cookie sheets, and the skillet because we have some recipe ideas for you to experiment with. 
Make It Last
First, let's talk about prolonging the bounty. How does garden-grown zucchini in January sound? No, we're not suggesting hot houses or some nifty trick to grow these great veggies indoors. Before we devote a weekend to baking, frying, and grilling the pile of zucchini to use it all up, let's talk about preserving some of it for later use. 
Start by cutting off the very top and bottom of one of the zucchini. Using either a box grater or a food processor, shred the zucchini. You should have a nice sized pile grated by the time you're done. Divide it into 1 or 2 cup portions and place each into a freezer bag. Remove as much air as possible and drop it in your freezer where it can become a Thanksgiving yummy side dish or January's muffins. When you're ready to use it, you can defrost it overnight in the refrigerator. You're going to want to place your formerly-frozen zucchini in a strainer and gently press down on it to get rid of the extra moisture. 
Quintessential Muffins
Zucchini muffins ought to be a kitchen staple. Not only are they quick and yummy, grab-and-go breakfast or snack, they can also be frozen and eaten at a later time. Finding an allergy-friendly version, however, can be a challenge. This recipe from Allergy Awesomeness offers a gluten-free, egg-free, milk-free, nut/peanut-free option that includes chocolate chips. Yes, you read that right. Yum! If you're baking for someone with wheat allergies, experiment with the type of flour you can use to find the flavor and texture that makes your hungry family happy.
Chocolate Zucchini Bread
Got a picky eater? Recipes like this chocolate zucchini bread from Ambitious Kitchen can be an easy way to sneak a few veggies into the diet. Sure, this particular set of veggies will accompany cocoa powder and, if you follow it all the way through, a bit of frosting, but it offers a delicious, allergy-friendly dessert or snack option for a family of chocolate lovers, even if you're avoiding dairy, wheat, egg, and nuts. 
Dairy-Free Ratatouille
Gather an armful of zucchini, yellow squash, eggplant and your choice of root vegetables for a healthy summer dish your family is going to beg for. We came up with this recipe years ago when we watched Disney's film Ratatouille and it's become a household favorite!  When you click that link for the ratatouille recipe, you'll also find a great recipe for another of our faves, two-ingredient, one-pot stewed chicken in tomato sauce. It's so full of flavor your taste buds won't know how easy it was to make!
Zucchini Fritters
These light, crispy fritters from Nora Cooks look easy to make and delightful to eat. If you're cooking for someone with a wheat allergy, you'll need to adapt the recipe to swap out the all-purpose flour with a safe alternative. The recipe as written is free of eggs and dairy. 
Zucchini Boats
Peel up a couple of zucchini and cut them in half lengthwise. Using a spoon, scoop out the insides of the zucchini leaving about a ¼ inch all the way around. Don't throw away the part you scooped out! We're going to come back to that. Chop the removed bits up and set them aside in a bowl for now. Drop the zucchini boats you just made into boiling water for about 2-3 minutes to soften them slightly. You're not trying to cook them through, just soften them. Drain them well and place them on a baking sheet open side up. Brown some ground meat adding in your favorite seasonings. When the meat is browned, add the chopped zucchini and 1 diced onion. Fry until the zucchini is clear and then drain any excess liquid. Add ¼ cup of nutritional yeast, stirring until it's well combined. Fill your zucchini boats with your meat mixture. Top with your favorite tomato sauce and your favorite dairy-free cheese. Bake your boats for about 20 minutes.