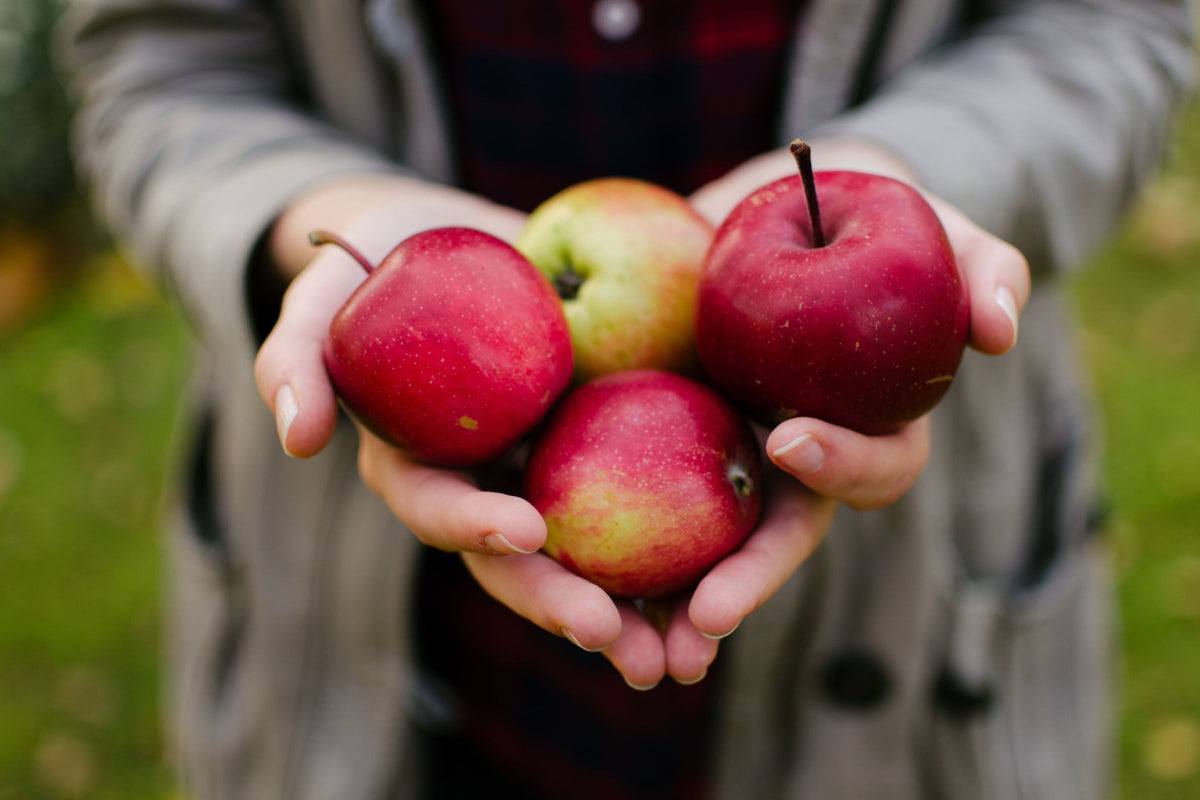 The world can debate the merits of pumpkin spice everything, but there's no denying that - red, green, or yellow - apples are a quintessential autumn fare. Whether you've made an afternoon out of visiting the orchard with your family or you've just stocked up at the grocery store, you've got a lot of scrumptious options for what to do with apples and many of them can be adapted to work with your allergy-related restrictions. As we observe National Apple Day this week, let's dig into some of those recipes. 
Apple Crisp
Sure, when you think of baked apples, pie probably jumps to mind pretty quick, but it's not the only yummy option you've got. Apple crisp is a popular choice and can be easily adapted to avoid wheat and other top-8 allergens. You can use any classic crisp recipe for the apple base of the dish or you can slice up 5 Granny Smith apples and combine them with ⅓ cup of maple syrup, ¼ apple cider, 1 tablespoon of lemon juice, 2 teaspoons of arrowroot starch, ½ teaspoon of cinnamon, and ¼ teaspoon of allspice or nutmeg. Fill your baking dish with the mixture. 
The topping is where you'll need to get a little creative. Traditional crisps rely on wheat flour and butter to create their sweet, crumble top. For those with wheat and/or dairy allergies however, that can be an issue. Instead, combine ½ cup of coconut flour or other flour that's safe for your specific allergens, with ½ cup of gluten-free quick oats, ½ cup of brown sugar, ½ teaspoon of baking powder, and ¼ teaspoon of ground cinnamon. Mix well and then cut in ⅓ cup of cold dairy-free butter or coconut oil using a fork. Blend until the mixture is crumbly and then spread it evenly over your apple mixture. Bake for about a half-hour in a 350 degree oven. 
Apple Pie
Speaking of apple pie, giving up gluten or being wheat-allergic doesn't mean you need to pass on pie. In fact, with a little creativity, recipes like this one from The Loopy Whisk offer up an alternative crust that avoids wheat altogether. This recipe does call for butter, but dairy-allergic households could experiment with dairy-free alternatives to create a crust that yields light flaky layers without the allergy risk. 
Dairy-free Chocolate, Caramel Apple Pops
Think caramel apples are an elusive treat for dairy-allergic folks? Think again. This recipe from Just What We Eat offers up a milk-free version of the classic fall treat. You can also coat those dipped slices in an assortment of toppings that are safe for your list of allergens. You can skip the nuts and load up on chocolate chips or mini-marshmallows or you could go crazy with the chopped peanuts if those aren't an issue for you. Or you can skip the toppings altogether and just enjoy the chocolate and caramel! 
Apple Nachos
Did someone say nachos? Not every apple snack needs to be baked with crusts or crumble. This gluten-free, dairy-free Apple Nacho recipe from My Gluten-Free Kitchen, can be a quick, no-bake, healthy snack option with a bit of a chocolate and sunflower butter drizzle twist. This recipe is also a great example of the way you can swap out ingredients for substitutes that work for your allergies. Sure, the original recipe calls for sunflower butter, but you could just as easily use a nut butter, peanut butter, soy butter, or other similar alternative. 
Remember, when you're cooking for food allergies, recipes can be the starting place. Experiment and create your own safe and scrumptious version. Take a culinary adventure. Discovering food allergies in the family doesn't mean you've got to give up your childhood favorites. It means you get to adapt and improve those recipes to be something familiar and safe. Have fun with it!