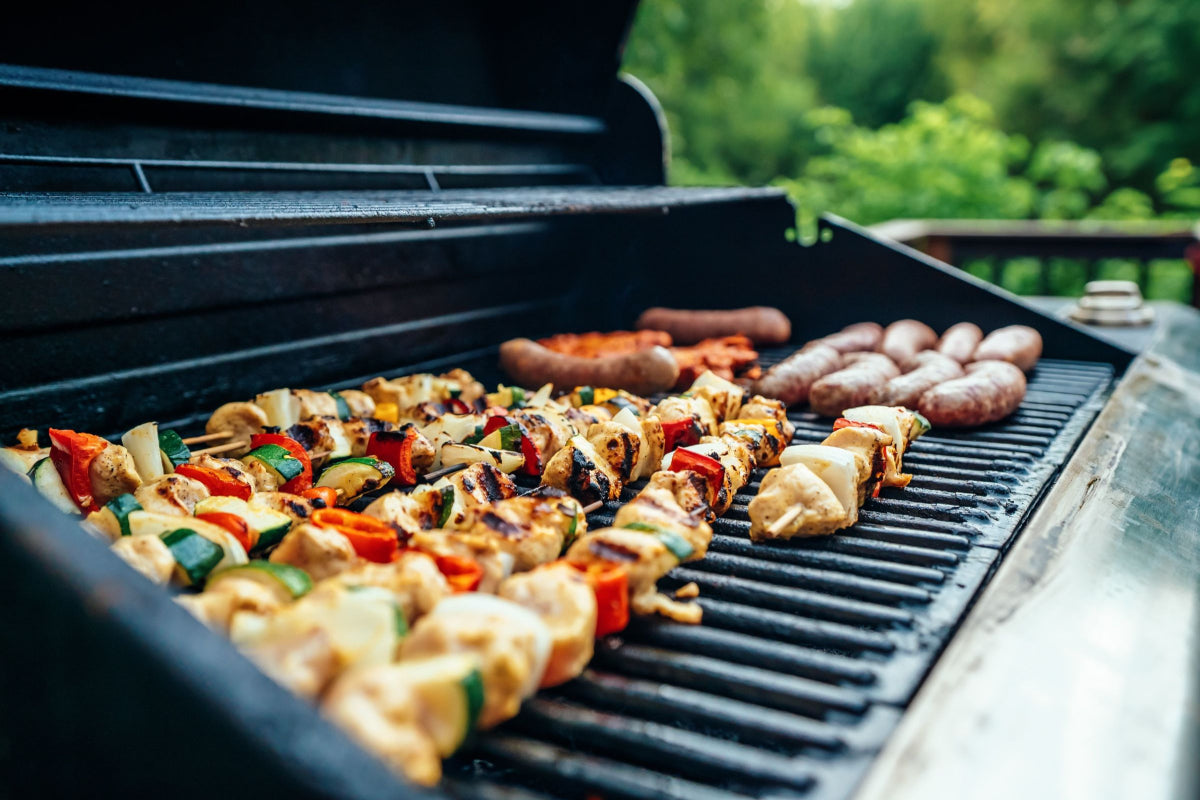 Technically, it's still winter. Technically, colder temperatures aren't outside the realm of possibility anywhere in the US. Technically, you may not want to pack up your snow boots and give your flip flops a prime spot on the floor of your closet. That said, we are in the stretch of the year where warm sunny spring-like days pop up here and there. Those days are a good excuse to fire up the grill and rejoice. If that sounds like a good game plan to you (or if you're one of those folks content to shovel a path in the snow to access your grill even in the dead of winter), having a few allergy-friendly recipes in reach is a must. 
BBQ Sauce
From soy to sesame and every top allergen in between, store-bought barbecue sauce can be a minefield of potential allergy trouble. Luckily, making your own isn't difficult. From the tomato-based recipe shared by Safely Delish to the tomato-free version shared by Somebody Feed Me, you'll find some scrumptious, sweet, and savory options ready to coat your favorite grilled dishes. Experiment to find your favorite go-to sauce. Start now and be ready for the peak of summer's grilling season!
Flavorful Marinade
 Of course, you could skip the BBQ sauce altogether and go for a full-flavored marinade. Letting your meal soak up the flavors overnight will yield deeply seasoned, juicy cuts of meat even after the grill has done its job. For citrus lovers, Allergy Awesomeness has a great recipe that fits the bill. This Lemon Grilled Chicken recipe is free of the top 9 allergens and seems like it'd pair well with a fresh salad on the side. 
Sophisticated Salad
Real barbecue fans know the grill is for more than just chicken and beef. In fact, there's very little you can't grill for a unique, smoky variation on the same old meals you've been eating all winter long. Even your salad can up its game on the grill. Yes, you read that right. Every Day Allergen-Free has a great recipe for Grilled Romaine with Prosciutto Cracklings that will send you out back to light up the grill. 
Taco Tuesday BBQ-Style
Grab the wheat-free tortillas and fire up the grill! Sure, you could go the traditional route for your next Taco Tuesday meal or you could try Allergic Living's Carne Asada Tacos that start with spicy marinade and a skirt steak. The marinade in this recipe packages a punch and you can enjoy your tacos with or without cheese (or cheese substitute) depending on your preference and allergy needs. 
Grilled Hawaiian Pizza
Even if you think pineapple has no place on pizza (and there certainly are a lot of folks in that camp!) consider giving this twist a try. Eating Gluten and Dairy Free has combined a gluten-free crust with a smoky-sweet sauce, shredded grilled chicken, and pineapple to create a unique, grill-ready pizza that may surprise you. This recipe calls for a few different ready-made items but you could easily substitute your DIY sauce and crust to meet your specific tastes and allergen needs. 
Hold-the-Pineapple Grilled Pizza
So maybe pineapple isn't for everyone's pizza and if that's you that's okay. Recipes like Real Simple Good Life's Grilled Paleo Pizza, Kendra's Treats' Grilled Tomato and Corn Pizza, and Go Dairy Free's grilled pizza variations offer some additional inspiration. Just take note, these recipes may require you to make your own modifications based on your allergen list. You may need to adapt the crust to avoid wheat or you may need to substitute a recipe's call for almond flour for something not nut-based. 
Grilled Dessert
Sure, you could go the obvious route and finish off your outdoor cooking with some allergy friendly s'mores over an open fire, but why not keep your grill working through the final course for simple yet super-yummy grilled fruit. You'll love the way the heat on the grill releases some of the natural sugars in the fruit for a unique, caramelized finish to meal. Cut peaches in half and remove the pit. Rub the grill grate with a little oil to keep your fruit from sticking and then place the halved fruit face down on the grate. Cook for about 3 to 5 minutes until the fruit is heated and those beautiful caramelized grill marks appear. If you want to add a little more pizzazz, squeeze a little lime juice over the grilled fruit and/or drizzle with a bit of honey. Pineapple, watermelon, and plums are also wonderful grilled treats. 
Want more allergy-friendly grilling tips and recipes? This article may help:
Summer Barbeque Recipes for the Allergy Aware
.