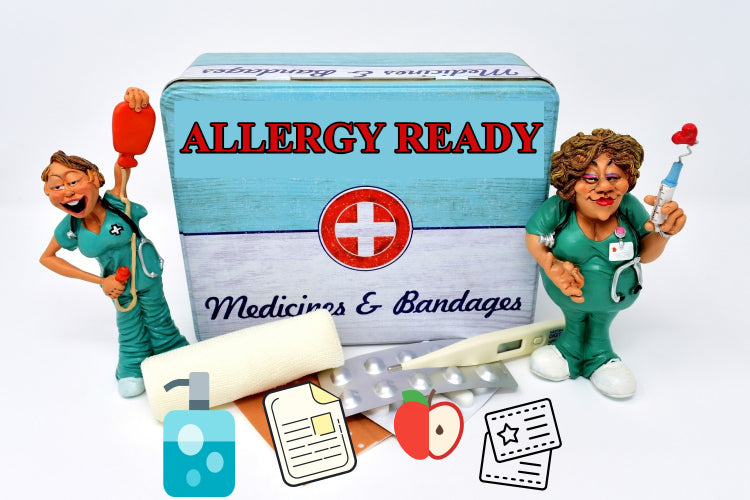 Hurricanes, wild fires, earthquakes, volcanic activity, blizzards; if you've been near a screen at any point in the last year, you've heard news stories about such natural disasters. When there's notice ahead of time, the media produces stories about how to prepare for such events: Building emergency preparedness kits and stocking up on water, food, batteries, and gas for your car. When the event comes unannounced, those stories emerge days later as the dust settles, and the talk focuses on how to be ready for the next time.
The advice offered in those stories is excellent. For families that also juggle chronic health conditions like food allergies and asthma, however, your kit needs even more. Before you dash out for AA batteries and a supply of bottled water, make sure your emergency kit checklist also includes the following items.
Grab-and-Go Medical Bag
Auto-injectors, asthma inhaler, antihistamines, hydrocortisone, eczema creams, and any other related medications should be placed in an easy to carry bag. Make sure you include measuring spoons for liquid medication and a bottle of water to help wash down any pills you need to take. Also, toss in a bag of baby wipes; remember, these are good to wipe down your hands and surfaces to prevent cross contamination with potential allergens. Keep your bag readily accessible so you can "grab and go" in the event of an evacuation. Keep in mind that you may not be able to restock your supplies for a few days if power is knocked out or roads are impassable. The American Red Cross recommends having a seven-day supply of your medications for this reason.
Paperwork
You should have a written allergy action plan. This is a great thing to fill out in conjunction with your allergist. If you're looking for a template to get the conversation with your doctor started, FARE has a great one on their website: Food Allergy & Anaphylaxis Emergency Care Plan. Keep a hard copy of this form in your Grab-and-Go bag. Remember, if power is knocked out, you won't be able to access online files. You'll also want to tuck copies of your insurance card and a list of emergency contacts (including your allergist office) in that bag.
Safe Food
Part of every preparedness story includes the reminder to stock up on non-perishable items. That's wonderful advice. Just make sure you've stocked on plenty of portable, safe food items. If you're evacuated to an emergency shelter, the food provided there may not be compatible with your family's food allergies. Have a supply of safe alternatives, including any special formula, alternative milks, and other allergy friendly foods. Stick with brands you've used before; this isn't the time to trial run a new food item. These items should be foods you can eat without needing to heat them up or keep them refrigerated in case power is out.
Healthcare Provider Info
As noted above, you should have your allergy action plan and the number of your allergist in your medical kit. Take it a few steps further. Include the address of local hospitals as well as information about any telehealth services you may have access to. If you're going to be evacuated, make sure you locate the information for the medical facilities nearest your shelter.
Personal Care and Recreational Items
Remember, food allergens can lurk in unexpected places like lip balm, shampoo, soaps, and art supplies. Stock up on travel-sized bottles of your family's personal care products. Create a grab-and-go activity bag for the kids filled with their favorite art supplies, books, and other distractions (that don't require electricity). If you must seek emergency shelter, having your own supply of such items will take more worry off your mind.
What's in your emergency preparedness kit? Did we miss anything? Stop by The Allergy Ninja Facebook group to join the conversation. I'd love to hear your ideas!