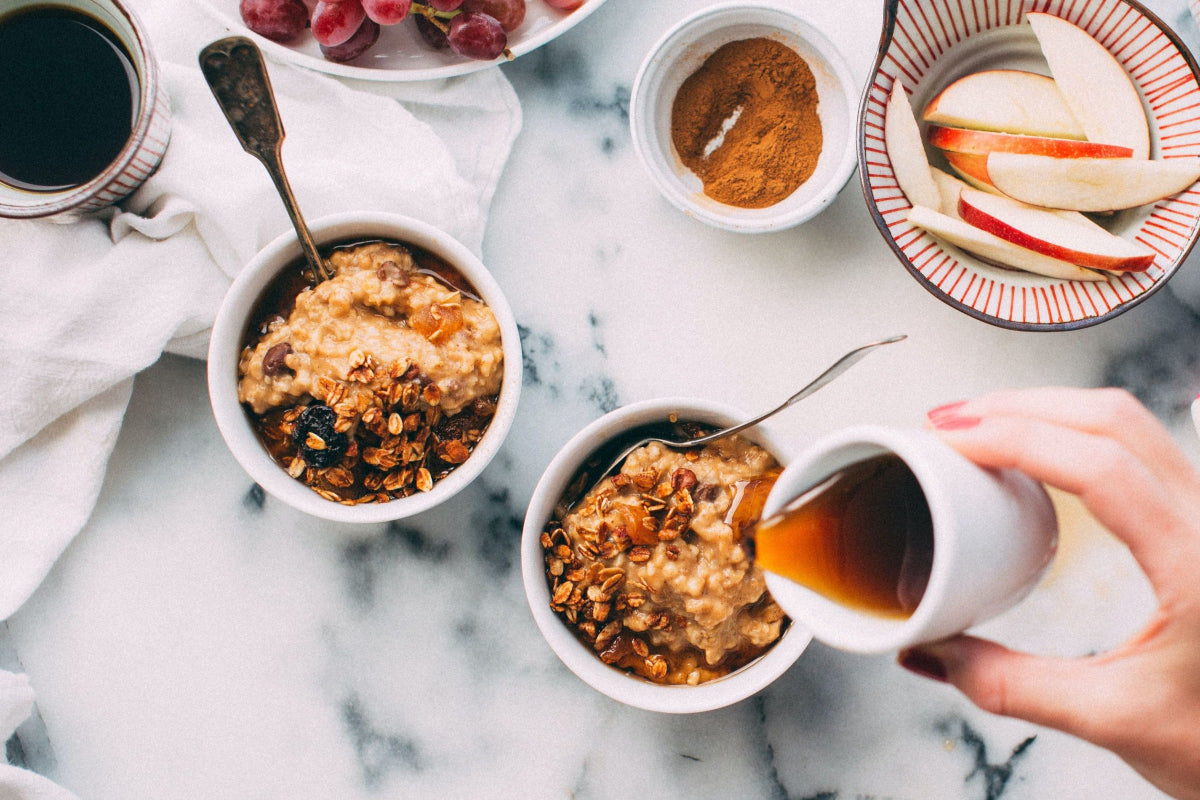 School may look a lot different this year for most of our families. Regardless of whether your student is attending classes in-person, online, or some hybrid of the two, one thing has remained the same: the morning rush. Your child may be logging into class from the kitchen table, but that doesn't mean you have gained time for a nice, leisurely breakfast. Quick, healthy options to get started on the right foot are still the order of the day.
Homemade Granola Bars
With a base of oatmeal, homemade granola bars give you the flexibility to customize your handheld breakfast to your allergies. Recipes like this one from Allergy Awesome allow you to use nut butters, Sunbutter, or soy butter depending on your allergies. You can also substitute gluten-free options for the rolled oats and rice cereal. Your add-ins can range from dairy-free chocolate chips to dried fruit. Experiment with the combinations to create a quick, yummy bar your family begs you for. 
Breakfast Quinoa
This filling and healthy breakfast starts with a bowl with cooked quinoa. Here's the good news, you don't have to cook it in the morning while coaxing your kids out of bed. This dish is served cold, which makes it a perfect use for any left-over quinoa you may have from a previous meal. Top it with fresh berries or other fruit of your choice and a drizzle of honey or maple syrup. Yum.
Berry-licious Smoothie
Here's the good thing about smoothies, you can pack in oodles of good-for-you fruits and veggies and your picky eater will be none the wiser. You can also create your own combination of allergy-friendly ingredients to make a smoothie breakfast fit your family. Need an idea to get you started? Combine a banana, 1 peeled carrot, 1 peeled beet, a handful of spinach, 1 cup of frozen berries, and 1 teaspoon of chia seeds with a cup of coconut or oat milk. Blend until the mixture is well combined, adding more of your milk substitute as needed to reach the desired consistency.
Chocolate Banana Muffins
I know. You're reading that recipe name and you're thinking there's no way I can make this for my allergic kids. Think again. Depending on what foods you're avoiding, this recipe from Super Healthy Kids is not just "doable" for your family, it may even become a morning favorite. You can make these muffins up ahead of time and enjoy them on the run during the week. 
Breakfast Parfait
With non-dairy yogurt substitutes filling up the refrigerator section in the supermarket, parfaits are a yummy, healthy option even for dairy-free families. Just reach for a small mason jar or other container and create layers of yogurt and berries: ¼ cup of yogurt on the bottom, a layer of mixed berries. Repeat. If you watch to kick things up a notch, drizzle a little honey or agave nectar on the fruit before adding the next layer of yogurt.
Apple Cinnamon Overnight Oats
Before you go to bed at night, toss the ingredients for Tasty Yummies Apple Cinnamon Overnight Oats into a mason jar and wake up to a hearty, delicious breakfast. As with other recipes, this one gives you space to customize your ingredients to work best with your family's allergies. For example, Beth used almond milk in her original recipe, but you could just as easily use oat milk or coconut milk if almonds aren't safe for your crew.
Overnight Chia Seed Pudding
Another option in the "make ahead and savor" category is a healthy, easily adaptable overnight chia seed pudding. Before you go to bed at night, combine a ¼ cup of chia seeds with a cup of milk or your favorite allergy-friendly milk substitute. Cover the bowl and let it set overnight. In the morning, stir the mixture well to break up any clumps. As you stir, you'll notice it become more of a pudding texture. Add some of your favorite toppings. Depending on your allergies, this could include a mixture of berries, chopped nuts, or granola. You can even drizzle a little honey or maple syrup for a twist.