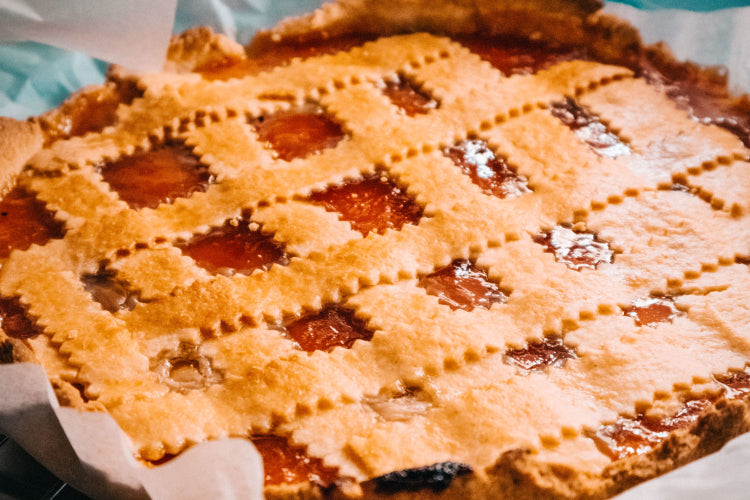 It's the season of pumpkin and apple everything. From the treats we eat to the drinks we sip, these two flavors are dominating our taste buds. For allergy families, finding fall flavors in safe treats may seem like a daunting task, but guess what? It doesn't have to be. 
Gluten-Free Crust (Wheat Free)
Whether you're craving pumpkin, apple, or some other delectable pie, the crust can be a challenge for those who can't tolerate gluten. Here's the good news: Recipes like this gluten-free pie crust from Gluten Free on a Shoestring use a combination of gluten-free flour and xanthan gum to make a flaky pie crust. This recipe does use butter, so dairy allergy folks should experiment with substitutes like solid vegetable shortening.
Dairy-Free, Egg-Free, Gluten-Free Pumpkin Pie
Begin with your favorite gluten-free crust like the one above. Bake and cool it. For the filling, combine 1 can of coconut milk (unsweetened) with ¾ cups of sugar, 4 tablespoons of cornstarch, your favorite blend of pie spices and a can of pumpkin. You'll find the exact cooking instructions on Serious Eats. 
Dairy-Free, Egg-Free, Nut-Free Pumpkin Bread
The combination of canned pumpkin and vegetable oil in this recipe from Genius Kitchen (along with all the other yummy ingredients) make a rich, dense, and delicious pumpkin bread that's free of eggs and dairy. By omitting the nuts often found in pumpkin bread, you can also make this one safe for your tree-nut-allergic pals.  If you also need to avoid wheat and/or gluten, try experimenting with alternative flours.
Dairy-Free Pumpkin Spice Latte
If you're craving a pumpkin spice latte but aren't confident in finding one that's dairy free, this recipe shared by The Soccer Mom Blog has what you need. It uses pumpkin puree, coconut milk, vanilla, cinnamon and pumpkin pie spice to create a homemade non-dairy creamer that's ready to spice up your morning cup of joe.
Dairy-Free, Egg-Free Apple Cake
Sure, you could put together an apple pie using the gluten-free crust above with the dairy substitution and filling it with juicy slices of apple, sugar, and cinnamon. You could also make this dairy-free, egg-free apple cake as published in the Washington Post. The recipe does call for soy milk, but you could try a different milk alternative if soy is an issue. You could also try the recipe with gluten-free flours if needed. Just remember, some substitutes will change the texture of your final product. Have fun experimenting (and sampling!) your trial runs.
Top-8-Free Apple Crisp
I know. I hear you. Finding an apple crisp that's free of the top 8 allergens isn't easy. That scrumptious crumbly top usually contains wheat flour and butter. Some recipes forgo the wheat and substitute nuts – either ground tree nuts or nut-based flours. This apple crisp from Lauren Kossack, however, is free of all 8 top allergens. There's no nut, no peanut, no wheat, no eggs, no milk, no soy, no fish, no shellfish. Just delicious apple crisp with crumbly topping.
Dairy-Free Blended Apple Drink
It's hard not to love apple cider warmed in a sauce pan with a cinnamon stick, but if you're looking for another apple-icious drink to sip during the season, try this smooth apple cider blended drink from Skinny Kitchen. It combines cider with vanilla coconut milk or almond milk (or other milk sub that works for your list of allergies) with cinnamon and ice. Yum!
These ideas should get your creative cooking juices flowing. If you've got an old favorite autumn go-to recipe you want to make allergy friendly, stop by our Allery Ninja Recipe Make-over page and request a hand. I'd also love to hear some of your recipe ideas. Drop by our Facebook group and join the conversation!