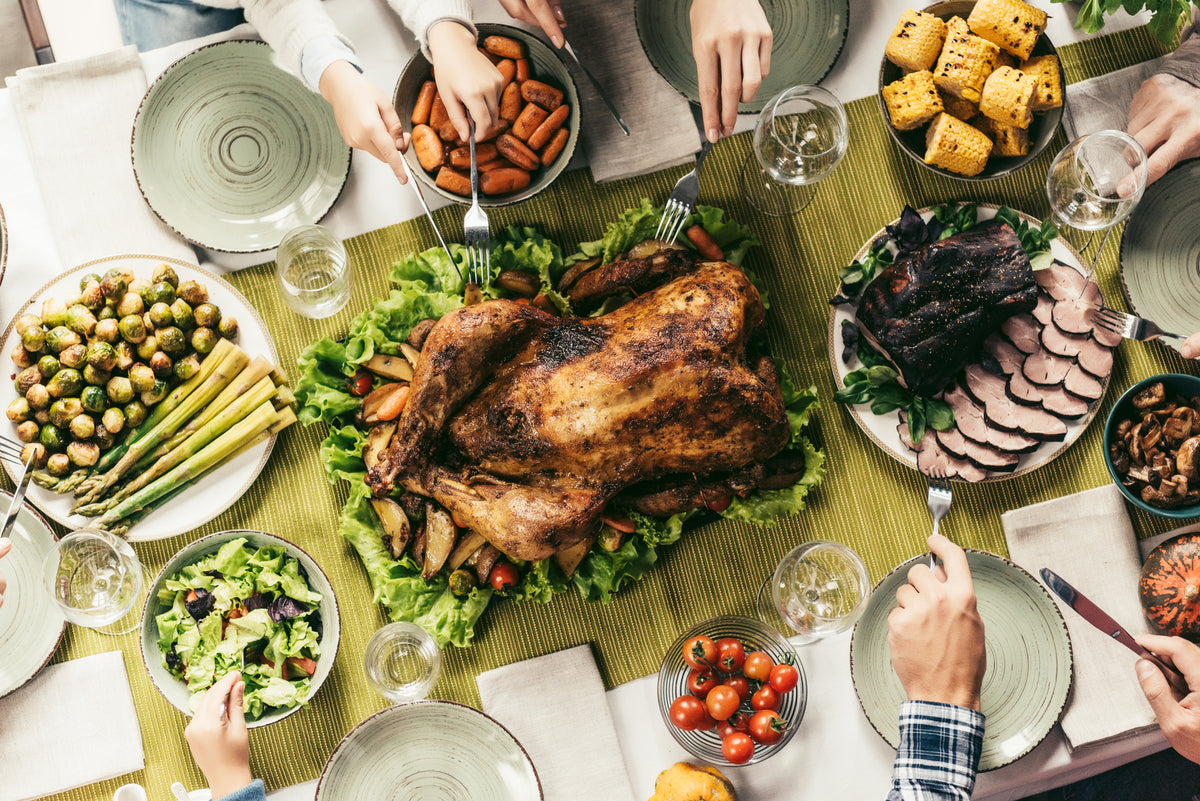 Next week, families across the US will pull up their chairs to their tables and dig into delectable Thanksgiving feasts. There will be turkey, potatoes, cranberry-something-or-other, and a variety of other fixings. Gorging on all that goodness is a holiday right, or so it seems. For an allergic individual, however, the Thanksgiving table can a minefield of potential reaction-inducing challenges. The dairy-allergic person doesn't see creamy, scrumptious mashed potatoes, he sees milk and butter hiding in potato. The wheat-allergic person doesn't see warm rolls to melt butter across, she sees a reason to make sure her auto-injector is easily accessible. Here's the good news: Some careful preparation and a few tweaks can make your allergic family and friends grateful, not fearful.
Dairy-free Mashed Potatoes
Think you can't whip up light and fluffy mashed potatoes without piling up the diary? Think again. Peel and cut your potatoes into ½ inch squares and then boil them until tender. Drain the potatoes and place them in a bowl. Now's the fun part. Add in several cloves of finely minced garlic (you can substitute garlic salt or powder, if you'd like) and 1 – 2 cups of chicken broth. Using a mixer or potato masher, break those taters down into smooth, velvety goodness.  If you have extra turkey stock, feel free to use that in place of the chicken broth. Experiment with your favorite seasonings to jazz things up and make this your own signature dish.
Bonus tip: For a different taste, try adding ¼ cup of olive oil instead of broth.
Allergy-friendly Stuffing
For some, stuffing is one of the best things about the Thanksgiving feast. For the allergic folks at your table, however, it can be a tough treat to enjoy. A few simple substitutes can be all you need to tailor this one to meet your allergy needs. For those with wheat allergies or gluten sensitivities, substitute your favorite safe bread for this dish's primary ingredient. You can make your own loaf of bread using a non-wheat flour or you can find a commercial specialty loaf that meets your needs. Avoiding egg? That's okay. The egg in most stuffing recipes is used to bind the dry ingredients together. You can use turkey stock or chicken broth instead. Add enough to make the mixture stick together without getting pasty. For an extra bit of yum, dice up some cooked bacon, onion, celery, and carrot to include in your stuffing mixture.
Dairy-free, Wheat-free, Nut-free Green Bean Casserole
In some households, green bean casserole is a holiday must. Many recipes include almonds for a bit of crunch. Between the dairy ingredients and that nutty twist, this veggie dish can be a no-go for allergic tables. Making the veggies (vs. the toppings) the star, however, can update the dish with allergy-friendly flare. Boil your fresh green beans in water for about 5 minutes and then drop them into an ice bath to stop the cooking process. Set those aside. Gently dredge rings of thinly sliced onion in gluten-free, wheat-free flour and fry them until crispy. You can also place the onion rings on a baking sheet and bake at 475 degrees for 15-20 minutes until they're browned and crispy. In a sauce pan, combine 2 tablespoons of olive oil, 1 medium shallot (diced) and 2 cloves of garlic (diced). Season with salt and pepper and cook for about 2 minutes. Now add in a cup of your favorite mushrooms (finely chopped) and cook until the mixture is lightly browned. Sprinkle 2 tablespoons of your favorite wheat-free flour over your sautéed veggie mixture and stir to coat. Cook for another minute slowly, adding in a cup of broth (vegetable, turkey, or chicken – the choice is yours!) Now add in a cup of your go-to safe non-dairy milk and cook the mixture until the sauce is thickened. Finally, add about a 1/3 of your crispy onions and all of your green beans to your sauce mixture. Pour the combined goodness into a casserole dish and top with the remining crispy onions. Bake for about 15 minutes until it's all warm and bubbly.
Quinoa Cakes
Skip the rolls and make these cranberry quinoa cakes a part of your Thanksgiving tradition. Here's the best part: These cakes taste better when they've had time to settle for a day in the fridge, so you can whip them up ahead of time. I created these cakes for my family on a quest to use up leftover cranberry quinoa salad from my son's Bar Mitzvah. Looking at the smiles of my family's faces tells you all you need to know the results. You'll need 3 cups of cranberry quinoa salad. You can find your own preferred allergy-friendly recipe, or you can simply mix up 3 cups of cooked quinoa with diced red onion, diced green apple, a cup of drained chickpeas and dried cranberries with a favorite vinaigrette. Combine your salad with 3/4 cup of sweet potato puree and a powered egg replacer equivalent to 3 eggs (we used vegan eggs in this recipe).  Mix all the ingredients together and spoon evenly into a cupcake pan with paper liners. Bake at 350 for 16 minutes and then remove from the oven and let them cool on the counter. You can transfer them to the fridge once they've cooled to room temperature and let them rest overnight. Enjoy!